It's Christmas Eve here, and I wanted to wish you all a very happy holiday, whatever you celebrate – Yule, Solstice, Christmas, Hanukkah, Kwanzaa! I hope you all are able to spend the day surrounded by family and loved ones. This year my husband and I are far away from most of our friends and family, but we are blessed to have made some wonderful friends here in South Korea and will be sharing a Christmas dinner at our house with them.
Also, I decided to play along in The Jingle Bell Book Tag! I found it on Nicole's Sorry I'm Booked blog. Consider yourself tagged if you want to play along. 😀 All the cover images link to GoodReads.
The Jingle Bell Book Tag
"All I Want For Christmas Is You…" – What book do you want to see under the Christmas Tree?
Um, so…it was with great difficulty that I refrained from putting JUST books on my Christmas wishlist this year. In the end on the top of my list was the Lunar Chronicles boxed set, which somehow – despite the Lunar Chronicles being THE BOOKS that broke me out of my worst reading funk ever – I don't own. It's making me really sad.
"Simply Having A Wonderful Christmas Time…" –  What book that you have read this year have you enjoyed the most?
This is such a hard question! I think it's a toss up between A Court of Mist and Fury, by Sarah J. Maas, and The Lake House, by Kate Morton. Such different books, both incredible in their own way. They both knocked me on my ass with awful book hangovers. 
Elf – What book unleashes your inner child?
Hmmm…so this is…a book with the fondest memories for me, as a child? I'm a little at a loss at this question. But I'm going with Anne of Green Gables. I loved her so much, I read the first two books in the series I don't know HOW MANY times. Gilbert Blythe…*sigh*. Somehow I never got beyond the third book, though.
"It's Beginning to look a lot like Christmas…" – Which book has most festive look to it?
Oh, this one I didn't even have to think about – Jay Asher's What Light, which sadly I don't think I'm going to get to read before the season is over. I don't know why this just says HOLIDAY to me, but it does.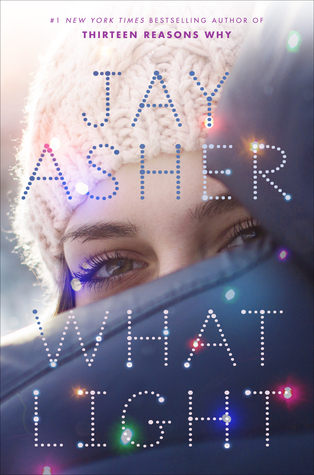 The Grinch – Your favourite villain…
Ummmmm. Favorite villain? Like, the best villain? Which villain makes my skin crawl the most, or the one I would genuinely fear to meet in a dark alley? I'm going to go with that last one, and that would be the bad guy from The Girl on the Train (not giving names so not to spoil for anyone that hasn't read it). When I realized who it was, and the way he operated…my skin literally crawled. I didn't even like the book that much, but the villain was SO psychologically creepy.
The Holiday – Name your favourite TWO couples…
Oh, gosh, what? This is hard! Ok, so I'm going with two couples from OLDER books that I've read and still adore. Jamie and Claire, from Diana Gabaldon's Outlander, and Captain Wentworth and Anne Elliot, from Jane Austen's Persuasion.
What book would you like to give as a present to your followers?
Now THIS is a hard one. One book does not fit all! I'm going to have to give two here. This one is for the Young Adult/Fantasy lovers: Naomi Novik's Uprooted.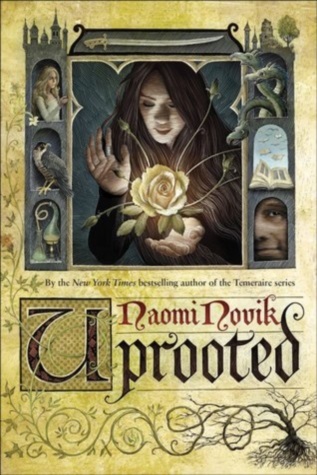 And for the adult fiction and mystery lovers, Geraldine Brooks' People of the Book.
I hope you enjoyed my version of The Jingle Bell Book Tag! If you decide to do it yourself, leave me a link in the comments. 🙂
Subscribe to Blog via Email