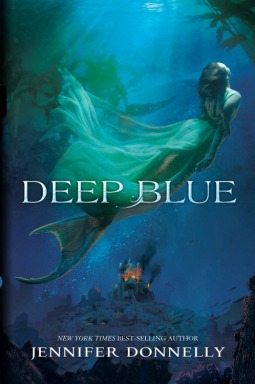 Deep Blue
by
Jennifer Donnelly
Series:
Waterfire Saga #1
Published by
Scholastic Inc.
on May 6th 2014
Genres:
Middle Grade
,
Young Adult
,
Fantasy
Pages:
340
, 
Buy on Amazon

Serafina, daughter of Isabella, Queen of Miromara, has been raised with the expectation - and burden - that she will someday become ruler of the oldest civilization of the merfolk. On the eve of the Dokimí ceremony, which will determine if she is worthy of the crown, Sera is haunted by a strange dream that foretells the return of an ancient evil. But her nightmare is forgotten the next day as she diligently practices her songspell; eagerly anticipates a reunion with her best friend, Neela; and anxiously worries about Mahdi, the crown prince of Matali, and whether his feelings toward her and their future betrothal have changed. Most of all, she worries about not living up to her mother's hopes.
The Dokimí proceeds, a dazzling display of majesty and might, until a shocking turn of events interrupts it: an assassin's arrow wounds Isabella. The realm falls into chaos, and Serafina's darkest premonitions are confirmed. Now she and Neela must embark on a quest to find the assassin's master and prevent a war between the mer nations. Their search will lead them to other mermaid heriones scattered across the six seas. Together they will form an unbreakable bond of sisterhood as they uncover a conspiracy that threatens their world's very existence.
The Waterfire Saga was brought to my attention by Sara over at Freadom Library! I was intrigued by the mermaid aspect, and they sounded like fun, quick reads with enough substance to keep me from rolling my eyes the entire time. She did say that it was more on the towards-middle-grade side of YA, and after finishing this first book I whole-heartedly agree. I'm not sure why these are even in the YA category other than the age of the characters. Anyway, without further ado, I present my review of Deep Blue by Jennifer Donnelly!
"You fear you will fail at the very thing you were born for. And your fear torments you…instead of shunning your fear, you must let it speak and listen carefully to what it's trying to tell you. It will give you good counsel."
Feels:
Well, to start off with I got a serious case of deja vu.
Thankfully it moves past that pretty quickly. There are some similarities throughout but I think that's to be expected given the mermaid subject and the intended audience. I loved the emphasis on friendship and sisterhood that is this story. There is no prince on a white horse and these princesses have to save themselves.  In the end that was what really increased the rating for me.
Characters:
The main character is Serafina, the princess of one of several underwater merl realms. While I feel for her as she goes through the massive trauma that is the first several chapters…I never quite connected with her. Her best friend is Neela, the princess of another realm – and I adore Neela. She's so funny, and warm, and her obsession with sweets is SO relatable. I mean who doesn't try to distract people from hard things by giving them delicious food?
The other princesses that they collect in their quest aren't drawn out as fully, but they're interesting and I want to know more! Ling, Becca, Ava, even cranky Astrid – they all obviously have stories of their own and they are all so beautifully different in backgrounds, their skills, even their appearances. I really like the fact that the sisterhood between them all is the main emphasis of the story. While, yes, there is a prince, and at first it seems like a romance is going to be a main part of the book – it's not. Several times I thanked all the stars that Sera was not one of those heroines who got completely distracted by her crush from the rest of the world.
Plot:
The plot was all very dramatic…there's a prophesy, there's a dream, there's magic…nothing all that new in the fantasy world. Again, at first I was about to throw the book across the room because it seemed all Little Mermaid-ish…but then people started dying and there was blood and spells and I was ok. Because every mermaid needs a little trauma to grow her up, am I right?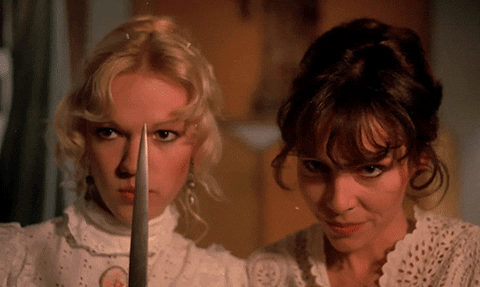 The romance completely takes a backseat after the first few chapters. I have a couple of theories on what happens to Prince Mahdi. I'm really looking forward to seeing if I'm correct in the next book(s)!
Worldbuilding/Description:
Donnelly does an excellent job of creating an underwater world that we can almost see and touch. It sounds lovely and enchanting! Once all the explosions and stuff have died down, naturally. She has invented words and at least part of a language for these books, I believe. There are at least words in another language that I don't recognize and that is only identified as an "age-old tongue." So that's AWESOME.
I didn't enjoy the constant puns. I'm not entertained by puns in general, so maybe they're really not that bad. But between the puns and just some awkward turns of phrase, I did a fair bit of eye-rolling.
Money = currensea.
"Getting our wrasses kicked!"
"We don't swim on ceremony."
Just stop. No one is going to forget that mermaids live underwater. Seriously. Also, there are several instances where we are told what the characters are feeling. Such as "Serafina was so excited, she was talking a million words a minute," and "Serafina, frustrated by Astrid's unwillingness to talk…" I find that style of writing extremely irritating, but it wasn't so pervasive that I couldn't skim over it.
Rating:
Overall, 4 stars. Until the last chapter I was pretty sure it was going to be a 3.5 star book, but then that cliffhanger…I'm sold. I'm excited to see what happens in the next book!
Subscribe to Blog via Email