Coming to you today with my November 2016 OwlCrate review! It's no secret I love OwlCrate. I've been subscribed since January of last year (skipped one month that just didn't sound like my thing at all) and so far every single box has been stellar. This month was one of my favorites! Sadly, I took the fewest pictures…ok, let's be honest, most of them were crap and I didn't realize it until I put them on the computer, and by then I had destroyed the box. Ahem.
I already knew the box was going to be Wonderland themed, but I still squealed when I opened it. 😀
Book:
The main book was an OwlCrate-exclusive cover of Marissa Meyer's Heartless! I guessed that this would be the release this month and was already prepared to try to pawn my extra copy off on someone, but then I dug to the bottom of the box and OMG! A white cover! I was so happy. Because I might be somewhat obsessed with special editions.
This month actually included TWO books, expanding my collection of Rock Paper Books editions with a gorgeous softcover of Alice in Wonderland. This also turns out to be a special edition, but you can get a print of the cover and other stuffs with the same artwork!
Other Awesome Stuff:
Matching bookmark from Rock Paper Books
Exclusive OwlCrate "Falling Alice" button
"Imagination is the only weapon…" magnet from Evie Bookish . I'm so in love with Evie's designs, I was tickled pink to get another one!
"Curiouser and Curiouser…" metal bookmark from Authored Adornments 
Authored Adornments has some gorgeous bookish jewelry that I'm absolutely drooling over. Like this Sense and Sensibility inspired ring.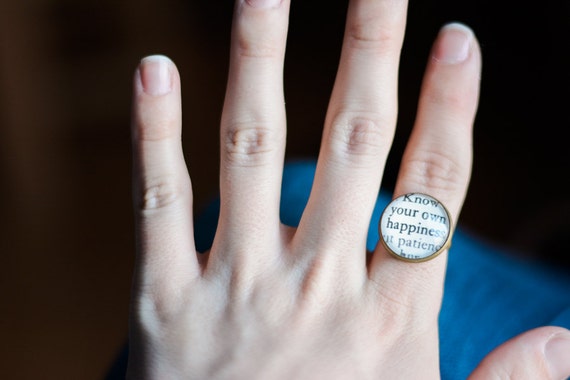 Last but FAR from least, a Wonderland Elixir Tea Tin from Riddle's Tea Shoppe / Adagio Teas. I was so taken with this tea and the concept that I almost immediately went and ordered MORE tea from Riddle's Adagio shop, which has everything from Lord of the Rings to Doctor Who to Sherlock inspired teas. I'll have a full review of the teas, including the one in this box, up next week!
That's it, folks! I hope you enjoyed seeing the box. If you subscribe, please use my referral link!  And oh, wait, one more pic…
Yes, that was a sign of blissful delight you just heard… 😉
Subscribe to Blog via Email