I missed the boat on these books growing up. Actually, I think they were published just a little bit behind when I would have been of the age to most appreciate them (yes, I'm old…shhhh). Of course I had heard of them, but when I saw all the hype about the Netflix show I decided to pick them up and of course I had to write a review! My plan is to read all 13 books and review them in 3 posts.
Review of A Series of Unfortunate Events
Series Overview:
This series is entertaining just for the narrative voice, if nothing else. Mr. Snicker (as narrator), is so dry and ridiculous that while yes, the books appeal to children, the tone is undeniably entertaining for adults. Are they great literature? No, I really don't think so. Will they be remembered in 50 years? Yes, I think so, because they are so different from the vast majority of middle grade (MG) books.
The first 4 books (all I've read of the series, at this point) are all very similar. Set in an indeterminate time after the invention of the car and the telephone but before television and cell phones (I'm leaning towards the 1930s but not sure), the Baudelaire siblings, as we are told "lead lives filled with misery and woe" even though "they are charming and clever." The actual location varies a bit, but adults are generally stupid and careless or cruel and cunning. The siblings stick together even as various horrible people try to hurt them or steal their fortune (or both). As their parents die in a catastrophic accident at the beginning of the first book (hence the title), the siblings have an enormous fortune, no near relatives, and no intelligent adult to help them or protect them. They fall easy prey to fortune-hunters…a theme that is repeated in all four of the first books. They go through a series of "guardians," each seeming more horrible than the last, but at the end of the 4th book it looks like something might be changing as far as their living situation goes. To be honest, that is the main reason I'm going to continue on with the series, just because they were all so very similar.
The narrative voice in this series is as previously mentioned, very distinct. It breaks all the rules. It interjects into the story – sometimes with 3rd person omniscience, sometimes with random definitions of words. Like this:
This is one reason many lawyers make heaps of money. the money is an incentive – the word "incentive" here means "an offered reward to persuade you to do something you don't want to do" – to read long, dull, and difficult books. The Baudelaire children had a slightly different incentive for reading these books, of course.
I think in this way, the author manages to use some words that middle grade readers wouldn't necessarily be familiar with. It works, surprisingly – though as an adult reader I found it a bit annoying. The narrative voice is also the constant voice of doom and gloom, though with such wryness I found myself chuckling.
The series is not a realistic fiction series. I read several negative reviews that obviously took it as such, and I think that's missing the entire point. The appeal of these books is that they use gross exaggeration to make points and to be funny. The characters are not supposed to be people you would meet on the street. They are grotesque exaggerations of people. Yes, we can all see elements of our crazy ex-boss in Count Olaf or Mr. Poe. But no one in the real world is that overtly-obtuse or evil. There are also made up creatures in these books – a dead giveaway that while they are set in a familiar world for readers, they are not in fact events that could actually happen.
---
The Bad Beginning (A Series of Unfortunate Events, #1)
by
Lemony Snicket
,
Brett Helquist
on September 30th 1999
Genres:
Middle Grade
Pages:
176

Dear Reader,
I'm sorry to say that the book you are holding in your hands is extremely unpleasant. It tells an unhappy tale about three very unlucky children. Even though they are charming and clever, the Baudelaire siblings lead lives filled with misery and woe. From the very first page of this book when the children are at the beach and receive terrible news, continuing on through the entire story, disaster lurks at their heels. One might say they are magnets for misfortune.
In this short book alone, the three youngsters encounter a greedy and repulsive villain, itchy clothing, a disastrous fire, a plot to steal their fortune, and cold porridge for breakfast.
It is my sad duty to write down these unpleasant tales, but there is nothing stopping you from putting this book down at once and reading something happy, if you prefer that sort of thing.
With all due respect,Lemony Snicket
The Bad Beginning as a title does not exaggerate. These poor kids, let me tell you. It starts off with introducing us to the Baudelaire siblings – Violet, Klaus, and Sunny – just as they've lost their parents. Their solicitor, Mr. Poe, is a well-meaning but incredibly thick man who has no idea how to care for children and truly seems unable to see past the end of his constantly dripping nose. The siblings go to live with the evil Count Olaf, who is somehow VERY distantly related to them (how is it their parents have SUCH weird distant relatives and no near ones?) and cares nothing for them except how to get his hands on their money, as their deceased parents were quite wealthy. They move into his horrid house, where there are treated as little better than slaves. There is some comic relief, and also a consistent ray of sunshine in the form of Count Olaf's neighbor (who, despite being well-meaning, is just as dense as every other "good" adult in this book).
The siblings are far from being normal children. They are all extremely gifted in some form, even Sunny – who is still a baby but is able to both communicate and act on a much older level. Violet is an inventor, and Klaus is a devourer of books and therefore just a general compendium of knowledge. Are they believable? Hardly. But neither are the adults.
The dark, twisted tone of this book really surprised me. This is for children!?! There are elements of abuse of the Baudelaire kids on all kinds of levels, twisting of the law in the worst possible way…and yet, the siblings refuse to be put down and refuse to give up. They stick together and eventually overcome the evil…but the evil is still lurking…and Mr. Poe is just as dense as ever.
The Reptile Room (A Series of Unfortunate Events, #2)
by
Lemony Snicket
,
Brett Helquist
on September 30th 1999
Pages:
192

Dear Reader,
If you have picked up this book with the hope of finding a simple and cheery tale, I'm afraid you have picked up the wrong book altogether. The story may seem cheery at first, when the Baudelaire children spend time in the company of some interesting reptiles and a giddy uncle, but don't be fooled. If you know anything at all about the unlucky Baudelaire children, you already know that even pleasant events lead down the same road to misery.
In fact, within the pages you now hold in your hands, the three siblings endure a car accident, a terrible odor, a deadly serpent, a long knife, a large brass reading lamp, and the appearance of a person they'd hoped never to see again.
I am bound to record these tragic events, but you are free to put this book back on the shelf and seek something lighter.
With all due respect,
Lemony Snicket
The Reptile Room starts off (after the necessary doom-and-gloom letter from the narrator, of course) on a much better note for the Baudelaires. At last it seems they may be going to live with someone who genuinely cares for them and has their best interests at heart. BUT WAIT. Let's not get too carried away. This is, after all, A Series of Unfortunate Events, and indeed they do seem to be the MOST unfortunate of children.
Soon after they arrive at their new home – another relative, this one a eccentric but lovable scientist, disaster strikes and they find themselves being hunted by the horrible Count Olaf once more. Only of course, since they are children and have been greatly traumatized, no one believes them. Because why would you? 😛 Naturally, things go from bad to worse and the children find themselves in a desperate fight to avoid being kidnapped right under the nose of the law. Sunny, the little rascal, plays a very important part in this one – eliciting a few eyerolls as somehow she manages to have the mental compact of about a 7-year-old in the body of a 15-month-old, but you know. Realism isn't the point here. 😉 In the end, they narrowly avoid Count Olaf once more.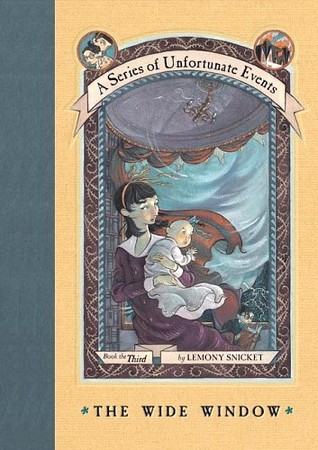 The Wide Window (A Series of Unfortunate Events, #3)
by
Lemony Snicket
,
Brett Helquist
Published by
HarperCollins Publishers
on February 25th 2000
Pages:
214

Dear Reader,
If you have not read anything about the Baudelaire orphans, then before you read even one more sentence, you should know this: Violet, Klaus, and Sunny are kindhearted and quick-witted; but their lives, I am sorry to say, are filled with bad luck and misery. All of the stories about these three children are unhappy and wretched, and this one may be the worst of them all. If you haven't got the stomach for a story that includes a hurricane, a signalling device, hungry leeches, cold cucumber soup, a horrible villain, and a doll named Pretty Penny, then this book will probably fill you with despair. I will continue to record these tragic tales, for that is what I do. You, however, should decide for yourself whether you can possibly endure this miserable story.
With all due respect,
Lemony Snicket
The Wide Window takes place far and away from the first two books, in a reclusive town and even more reclusive house with, you guessed it, yet another unstable distant relative as guardian for the Baudelaire children. This time their guardian, Aunt Josephine, isn't even actually related to them, but is their "second cousin's sister-in-law." Who just happens to be terrified of everything. The dock. The lake. The oven. She never eats anything hot for fear of getting burned by either the oven or the food. However! She has an intense passion for grammar.
"Grammar is the greatest joy in life, don't you find?"
Being something of a grammar freak myself, I found her constant corrections and horror at bad grammar to be quite entertaining and that in itself is the reason this book received a slightly higher rating than books 1 and 2. It really was hysterical at times, and plays an interesting part in the story.
Of course this wouldn't be an A Series of Unfortunate Events book without, well, you know. Horrible bad luck. Of course these kids can't catch a break and when a "Captain Sham" (hahaha ok, Lemony Snicket, you must have had such fun naming characters) shows up with an unhealthy interest in the children and all kinds of sweet words for Aunt Josephine, the terror begins. Once again (I since a recurring plot) the kids are forced to fend for themselves due to the incompetence of their adult guardians, and once again after a great deal of running around and close calls and horrible things happening to certain people, they manage to escape.
The Miserable Mill (A Series of Unfortunate Events, #4)
by
Lemony Snicket
,
Brett Helquist
on April 15th 2000
Pages:
194

Dear Reader,
I hope, for your sake, that you have not chosen to read this book because you are in the mood for a pleasant experience. If this is the case, I advise you to put this book down instantaneously, because of all the books describing the unhappy lives of the Baudelaire orphans, The Miserable Mill might be the unhappiest yet. Violet, Klaus, and Sunny Baudelaire are sent to Paltryville to work in a lumber mill, and they find disaster and misfortune lurking behind every log.
The pages of this book, I'm sorry to inform you, contain such unpleasantries as a giant pincher machine, a bad casserole, a man with a cloud of smoke where his head should be, a hypnotist, a terrible accident resulting in injury, and coupons.
I have promised to write down the entire history of these three poor children, but you haven't, so if you prefer stories that are more heartwarming, please feel free to make another selection.
With all due respect,
Lemony Snicket
Whoo-boy, here we go – The Miserable Mill picks up where The Wide Window left off, with the Baudelaires going off to yet ANOTHER guardian, this one the most mysterious and incomprehensible yet. Things are getting extremely repetitive at this point, so much so that I was tempted to not read this one. But the books are so easy to get through and so FAST to get through that I persevered.
This book gives a new spin to the Baudelaires mistreatment – they actually ARE slaves in this one, for the most part! Thrown into a sweatshop/poorhouse type sawmill, they are used and abused and try to hold each other together. Hope seems to be slipping away from them as they are too exhausted to do anything at the end of the day. But then Klaus breaks his glasses and has to go see the "optometrist." And all is not as it seems…because nothing ever is, for these kids. Of course no one believes them when they say they are being stalked. Of course no one sees anything wrong with 3 children working in a sawmill – actually, someone does, but has no guts to do anything about it, typical of the "good" adults in these stories. In the end, they of course barely escape per the usual. However, this time, the ending doesn't have them going off to another relative, it has them going somewhere else entirely, so maybe the next book will have a change in plot. I very much hope so because I really think even most children would be bored with these by now.
Subscribe to Blog via Email