Life kind of bit me in the butt this week, so I'm behind on my posts AND my reading…but here is my (late) January 2017 OwlCrate review! As of the writing of this post, there are still a few boxes left for purchase so if you want one you should probably go now. 😉 Sadly my photography was somewhat lacking on this box. My apologies!
The theme for January was Classic Remix, and unlike several recent boxes I had NO clear guess about what the book would be. Then I opened the box and couldn't believe I hadn't guessed!
Because it was so obvious. 😛
January Book:
Roseblood, by A.G. Howard – I was planning to buy this at some point anyone, so this was absolutely perfect! I've read a lot of mixed reviews so I've lowered my expectations slightly but am still hopeful! It's a Phantom of the Opera retelling, if you have somehow avoided all the hype. 😉
Extras:
Not as many extras this month because (I'm assuming) a couple of them were BIG!
Calendar from ObviousState with illustrations inspired by various children's books – AWESOME. I still don't know exactly where to put it because my desk overflow-eth, but awesome.
Magnet from SweetSequels inspired by Phantom of the Opera and OMG I NEED EVERYTHING IN THEIR SHOP. Especially this blanket: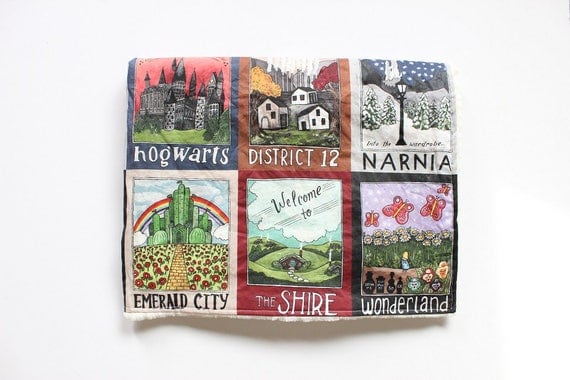 A lovely "Everything is Beautiful" bookmark from LexyOlivia, on cardstock! She has a ton of beautiful designs and I need them.
Book-shaped soap from TeaSoapBooks! Smells heavenly, like a spring garden…very fitting. 😉 This is another one of those things I don't really know what to do with but it smells amazing.
A full bag of loose leaf tea from the First Edition Tea Company! Yet another thing that smells amazing (I really should actually try it). Blend inspired by The Little Prince…awwww.
That's it, folks! Hope you enjoyed the rundown. 🙂
Subscribe to Blog via Email