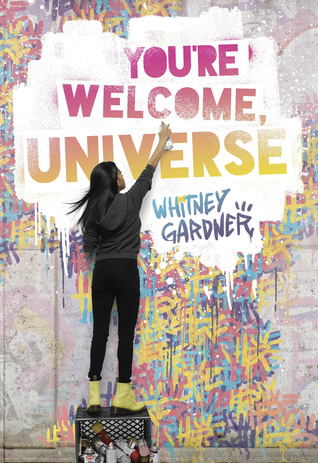 You're Welcome, Universe
by
Whitney Gardner
Published by
Knopf
on March 7th 2017
Genres:
Modern
,
Young Adult
Pages:
304
, 
Buy on Amazon

A vibrant, edgy, fresh new YA voice for fans of More Happy Than Not and Simon vs. the Homo Sapiens Agenda, packed with interior graffiti.
When Julia finds a slur about her best friend scrawled across the back of the Kingston School for the Deaf, she covers it up with a beautiful (albeit illegal) graffiti mural.
Her supposed best friend snitches, the principal expels her, and her two mothers set Julia up with a one-way ticket to a "mainstream" school in the suburbs, where she's treated like an outcast as the only deaf student. The last thing she has left is her art, and not even Banksy himself could convince her to give that up.
Out in the 'burbs, Julia paints anywhere she can, eager to claim some turf of her own. But Julia soon learns that she might not be the only vandal in town. Someone is adding to her tags, making them better, showing off—and showing Julia up in the process. She expected her art might get painted over by cops. But she never imagined getting dragged into a full-blown graffiti war.
Told with wit and grit by debut author Whitney Gardner, who also provides gorgeous interior illustrations of Julia's graffiti tags, You're Welcome, Universe introduces audiences to a one-of-a-kind protagonist who is unabashedly herself no matter what life throws in her way.
---
This book made me happy. Happy in the contented, yeeeeees this was good kind of way. I don't read that many contemporaries (usually find them trite and boring), so I don't think I'm easy to please – but this book. I pretty much clutched it to myself and gave it a hug when I finished. Also can I please have this quote on t-shirt:
"I'm not easy. Never have been."
Julia is a tough cookie. A tough cookie with an artist's heart and soul. I love her so much, even though I'm not sure she would like me, hehe. She has been hurt so many times in life that she just builds up walls against everyone, which is something I can definitely relate to – though not for the same reasons. I love her independence and how she embraces her Deafness, refusing to allow it to be a liability or anything negative in her life. Not to say she doesn't struggle and hurt – she does. But she overcomes and she doesn't wallow in her sadness.
I bury my face in the cushion of my beautiful armchair, my command center, and scream. Over and over, my throat vibrating and crackling with fire. Nobody comes to see what's wrong. Nobody can hear me.
This was my first experience in the Deaf world. I have some older family members who are deaf, but they are far removed so I really don't have any contact with anyone Deaf. While this is not an OwnVoices novel, the author appears to have THOROUGHLY done her research, as many people who either are deaf or have close deaf family members have reviewed this book and given it mad props for an accurate portrayal of the Deaf community. SO HAPPY about that! I was very intrigued by the fact that there are "Deaf" people and "deaf" people…I had no idea.
Julia does a lot of growing in this book. And in case anyone doesn't remember from being a pre-teen or teenager…growing pains are real. Both the physical and mental kind. In this case Julia learns a lot about friendships, and letting people go. It HURTS, people…but she grows through it and it's a beautiful thing.
Diversity is HUGE in this book, and (to me, a very NOT marginalized person) it seems to be presented as such a normal thing, no one bats an eye (except one teacher at some point in the narrative, but that's only realistic I suppose).
Julia is Indian American, and while it only occurs once in the book itself, she is often the target of racial slurs – many of which don't even apply to her, but are due to people making ASSUMPTIONS based on her skin color. #RAGE
Julia has two moms. I'm embarrassed to admit this is the first book I've met with that kind of representation, but I really enjoyed seeing/reading it. It's so completely normal, and they both play such huge roles in Julia's life. The narrative spent just enough time explaining the relationship between the 3 of them to help the reader avoid having a constant "but how…?" in the back of the mind while reading.
Julia is Deaf, and her moms are both Deaf as well. See above comments.
Julia is a graffiti artist – this may not technically qualify under the diversity label, but come on – graffiti artists are DEFINITELY in the minority. I loved that pictures of her art were included in the book – I have troubling picturing things without pictures and finding out that the illustrations were included was one of the main reasons I bought a hard copy instead of an ebook!
I might be burning bridges, but they're my bridges to burn.
Burn, baby, burn.
I loved pretty much everything about this book. Please go read. I'm super excited to have found another debut author that I absolutely love!
Subscribe to Blog via Email