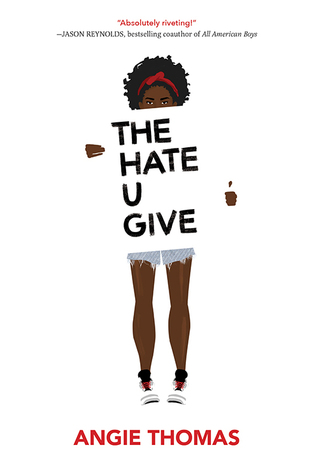 The Hate U Give
by
Angie Thomas
on February 28th 2017
Genres:
Modern
,
Young Adult
Pages:
453
, 
Buy on Amazon

Sixteen-year-old Starr Carter moves between two worlds: the poor neighborhood where she lives and the fancy suburban prep school she attends. The uneasy balance between these worlds is shattered when Starr witnesses the fatal shooting of her childhood best friend Khalil at the hands of a police officer. Khalil was unarmed.
Soon afterward, his death is a national headline. Some are calling him a thug, maybe even a drug dealer and a gangbanger. Protesters are taking to the streets in Khalil's name. Some cops and the local drug lord try to intimidate Starr and her family. What everyone wants to know is: what really went down that night? And the only person alive who can answer that is Starr.
But what Starr does or does not say could upend her community. It could also endanger her life.
I've been trying to write a review of The Hate U Give for weeks and weeks now. It's difficult to put my thoughts about it into a cohesive form, so I'm just kind of going to put a few things out there. Also, I'm aware that this book is HUGE because of it's subject matter and representation. I read it BECAUSE of that, because I know that I am in the majority and I want to understand what the minority goes through and feels. I realize a book will never give me a complete understanding, but I do think reading #ownvoices books can help. The entire point of reading is to learn and to travel and experience things in our mind that we can't or don't have the opportunity to experience in our place in the world.
THUG is an important book because it so thoroughly places the reader into another person's shoes. Because it was written by someone who has been there. She didn't have to do research to see how Starr and her friends and family would talk – she knew, because her family is Starr's family, her town is Starr's town. This isn't someone from the outside looking in and writing about it, this is someone writing what they have seen right in front of them.
Read The Hate U Give to see the world outside your comfort zone. Read it to understand why people have and do react the way they do to words, implications, and events. READ. IT.
---
The truth casts a shadow over the kitchen—people like us in situations like this become hashtags, but they rarely get justice. I think we all wait for that one time though, that one time when it ends right. Maybe.
The Great 
Angie Carter does a fabulous job of giving her characters unique voices. I could hear each character distinctly and it was amazing. I felt like I was following Starr around, eavesdropping.
I was completely immersed in the story. When the pivotal point of the story, the shooting, happened, I felt like I'd been sucker-punched. I felt sick. I had to put the book down and go compose myself. At first I tried reminding myself that it was just a book, but of course that didn't work because OH YEAH STUFF LIKE THIS HAPPENS PRETTY OFTEN and IN OUR WORLD and…yeah.
This book helped me understand a lot of things. It helped me see a lot of things for the first time. Every town I've ever lived in (except in Korea, heh) had two sides and I never completely understood why it was that way, when segregation was a thing of the past decades ago…supposedly. Starr's struggle to be more, her struggle with her feelings for Chris, and to bridge what seems to her (and to the reader) to be the two sides of her life, encapsulated everything I've ever been confused about or wondered why when it came to those two sides of town.
FAMILY. I freaking love Starr's family. Her parents' relationship isn't perfect but it's there. Her entire family – her blended family, there are step and half brothers and sisters in there too – is there for each other. They pull together. They may picker and fight but in the end they are there and it's amazing.
The Other Thing:
I, personally, was really disturbed by the wrecking of the town and the looting/destroying of property that went on during some parts of the book (mirroring, obviously, a lot of actual events as well). HOWEVER. What really came home to me was that while no, I didn't agree with the characters doing it, I finally understood to some extent why. I understood that it was a form of expressing how angry and scared Starr and her friends and neighbors were, of the injustice and prejudice that seem to meet them at every turn. Did that make it right? No. Starr even says so later. But I finally had some sense of why things like that happen.
Sometimes you can do everything right and things will still go wrong. The key is to never stop doing right.
5 stars.
Subscribe to Blog via Email