I loved Katherine Arden's debut, the first book in this series, The Bear and the Nightingale. Absolutely gorgeous. Heartbreakingly amazing. You can check out my review of that book here, and this review does NOT contain spoilers for the first book! I'm catching up on reviews a little, as I actually read this one back in September from an ARC.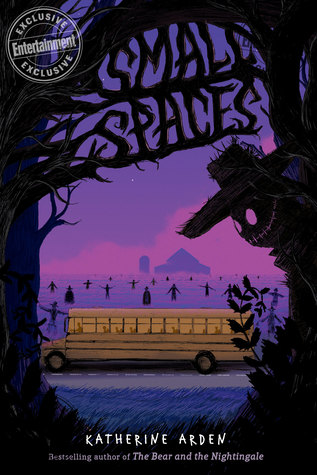 Katherine Arden is to date one of my favorite authors, and I have high hopes that she will keep it that way. I was thrilled to see that she has a middle-grade novel coming out in September, called Small Spaces. I don't read much MG but it sounds deliciously spooky and exactly like the kind of thing I loved to read at that age, so it's on my list!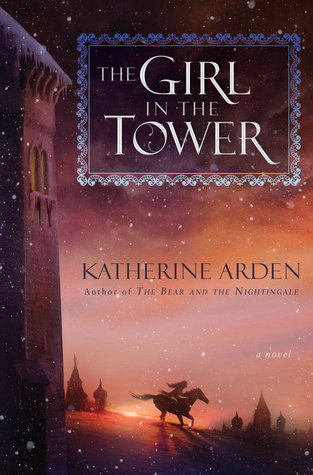 The Girl in the Tower (Winternight Trilogy, #2)
by
Katherine Arden
Published by
Del Rey
on December 5, 2017
Genres:
Fantasy
Pages:
363

The magical adventure begun in The Bear and the Nightingale continues as brave Vasya, now a young woman, is forced to choose between marriage or life in a convent and instead flees her home—but soon finds herself called upon to help defend the city of Moscow when it comes under siege.

Orphaned and cast out as a witch by her village, Vasya's options are few: resign herself to life in a convent, or allow her older sister to make her a match with a Moscovite prince. Both doom her to life in a tower, cut off from the vast world she longs to explore. So instead she chooses adventure, disguising herself as a boy and riding her horse into the woods. When a battle with some bandits who have been terrorizing the countryside earns her the admiration of the Grand Prince of Moscow, she must carefully guard the secret of her gender to remain in his good graces—even as she realizes his kingdom is under threat from mysterious forces only she will be able to stop.
"There were no heroes," said Vasya between her teeth. "There was only me."
The Girl in the Tower continues the story of Vasya, the child called a witch and shunned by her own rural village. This time it takes place mostly in Moscow, and at last we are able to continue the stories of some of Vasya's other family members as well. A great evil is stealing across the land, stealing the daughters of the people, and someone must do something about it. The lords are growing restless and angry with the tzar for not keeping their people safe.
The detail and atmosphere in the story have once again managed to amaze and enthrall me. Arden manages to blur the line between fantasy and fiction in such a way that, while the mind "knows" that these things could not happen as written, perhaps…perhaps…perhaps they might have, or could. Taking old stories, and superstitions and tales that are Russian in origin, but often familiar in some form across the globe, the tale told is one that resonates on a deep level and often sends chills down the spine.
Witch. The word drifted across his mind. We call such women so, because we have no other name.
Vasya is still my sister from another mother, with spunk and intelligence far beyond her age. She refuses to be discouraged or held down by societal expectations, choosing instead to carve her own path in the world. It's a difficult way, but one that sets her soul on fire. She is growing older in this part of the story, coming into womanhood with all of its medieval troubles, which typically far outweigh its charms.
The plot does seem to be a little slow, but that only occurred to me later after I finished reading. While I was reading I was so immersed and entranced by the Vasya's world that I did not care. There is action, emotion, and worldbuilding in this book and all are artfully done. Highly recommend.
Many thanks to Del Ray for providing an ARC copy in exchange for an honest review.
---

If you really enjoyed reading and would like to show your support for future content and help keep the blog running (my goal is to make the blog self-supporting), consider using the affiliate links on this page to buy your next book, or donate to the blog using one of the links below!
Subscribe to Blog via Email