Sky in the Deep
by
Adrienne Young
Published by
Wednesday Books
on April 24, 2018
Genres:
Fantasy
,
Historical
,
Young Adult
Pages:
340
, 
Buy on Amazon

Part Wonder Woman, part Vikings—and all heart.

Raised to be a warrior, seventeen-year-old Eelyn fights alongside her Aska clansmen in an ancient rivalry against the Riki clan. Her life is brutal but simple: fight and survive. Until the day she sees the impossible on the battlefield—her brother, fighting with the enemy—the brother she watched die five years ago.

Faced with her brother's betrayal, she must survive the winter in the mountains with the Riki, in a village where every neighbor is an enemy, every battle scar possibly one she delivered. But when the Riki village is raided by a ruthless clan thought to be a legend, Eelyn is even more desperate to get back to her beloved family.
First of all. This cover. AND VIKING WARRIOR WOMEN. Just take all my money right now, why don't you. Of course, there's also a huge danger in being completely taken by a cover and brief blurb…sometimes the copywriter is a better writer than the actual author. So I was sort of kind of worried that might have happened, but I am very happy to report that it most certainly did not disappoint!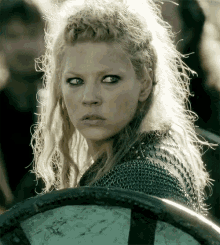 Oh, and btw – I was reading my copy of this book in the bath, and my puppy knocked it out of my hand and INTO THE WATER. There was much shrieking and flailing but the book survived and so did the puppy. The book is now all ripple-y and much thicker than it should be, but still readable. *eyeroll* 
FIRST OF ALL

:

Adrienne Young, can we pleeeeeeeease have a sequel where Eelyn and Fiske are a little older?? PLEASE??? Like maybe a NA type? Maybe where the enemy tribe resurges? I know there is a companion novel coming but it sounds like it might be more about someone else and I just need more of Eelyn. Please and thank you. Ok, now I will attempt to write something more coherent…there ARE some SMALL potential spoilers.
Characters

:

Obviously, Eelyn. Our fierce Viking shieldmaiden. When the book first started, I was slightly put off by just how ANGRY she seemed to be, as if she had no other emotion (other than feeling pain, I definitely got the sense that she was in pain, but her reaction to pain was MORE ANGER). Did she have reason? Yes, probably more than most of us reading. Life in this time was hard, even if women were treated more equally in this Viking world. Eelyn kicks ass, but beneath her strong soldier exterior she still has a heart, she loves her family and her village more than life itself…which is why it hurts her so deeply when she discovers what her brother, Iri, has done. Eelyn is also NOT one of these heroine who walks and talks like a badass but never quite manages to DO anything badass…nope. She is downright brutal at one point in the book, and I found myself quite literally gaping at the page.
I'd envied Iri my whole life for his open heart, and now mine had been pried open too.
Iri himself is quite…well, I liked him, but I didn't feel that close to him. I went through about the first half of the books with my arms figuratively crossed on my chest, TOTALLY with Eelyn that nothingbutnothing should have kept him from returning to his family, but then…then things happen. Still, I wanted to KNOW Iri better, because he really seemed like he was a complex character that we just didn't get to know that well. Eelyn knows him, or thinks she does, and it is from her viewpoint that we see him.
Fiske is something else. He really grew on me, because in the beginning I just thought he was a wuss. No joke. Then we see him interact not only with Eelyn and Iri, but his mother, his little brother…and oh wait, he's not a wuss, he just thinks before he acts. I loved the slow-burn of his and Eelyn's romance. I know enemies-to-lovers is one of the OLDEST romantic plots ever, but it's repeated because it works, both in books and sometimes even in real life! I really wanted to see more of them as a couple, in the village and family dynamics…ah well. 2 flames, because while there are some couple scenes there's nothing graphic or really all that descriptive.
Inge, the only real mother-figure in the entire book (as Eelyn and Iri's mother died long ago), is the best. I loved her so much. She is a healer, not a warrior, and yet she is very clearly just as strong as Eelyn or any of the others. I pretty much want to be her, since I'm pretty sure I don't have the reflexes to be Eelyn.
Halvard!! OMG, this little guy has more guts and spine than several adults put together. And he is so non-judgmental, sees the good in everyone…we all need a Halvard in our lives. I swear the moments when his life is in danger, I went all Mama Bear even just sitting on my couch. DON'T YOU DARE MESS WITH MY LITTLE MAN, YO. At one point I actually thought he was going to be killed off and when I finally got to the end of that passage, I realized I'd been sitting there with my free hand just plastered over my mouth and I had tears in my eyes. THE FEELS.
Plot
The plot is pretty well encapsulated in the book blurb, making this story MUCH more character driven than action driven – despite having some really intense battle scenes in the first and last quarters of the book. The middle bit is really more about Eelyn and her internal struggles with being a captive, and of all the dynamics of the Riki village and Iri's "new" people. It is heartbreaking, at times.
The words were small but they were true. 'I'm thinking that I wish you'd died that day.'
Worldbuilding
There isn't a lot of detail given, which works quite well for this book. We know that the Aska live by the sea, and the Riki live in the mountains, and they have a generations old blood feud. Their culture is clearly based on ancient Vikings, but other than that…this was a book about people and relationships, not one to immerse you completely in a historically accurate time and place. It does immerse you, just…in a much more narrow way. It works much better than I could have imagined, and I was quite surprised that the lack of detail did not seem to hinder my enjoyment of the story at all.
5/5 stars. Highly recommend. My only "complaint" is that I really wanted more, I was very disappointed when it ended…but isn't that how the best books always are?
I could still see a young Eelyn standing on the beach turned into the wind, a sword in one hand and an axe in the other. I hadn't lost her. I hadn't buried her. I'd only let her change into something new.
---

If you really enjoyed reading and would like to show your support for future content and help keep the blog running (my goal is to make the blog self-supporting), consider using the affiliate links on this page to buy your next book, or donate to the blog using one of the links below!
Reading this book contributed to these challenges:
Subscribe to Blog via Email