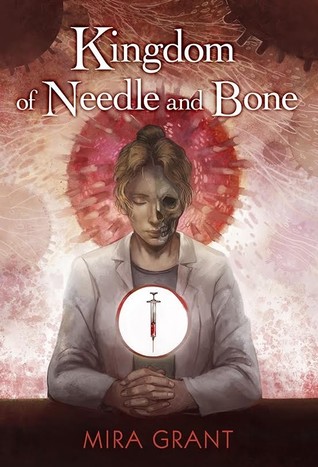 Kingdom of Needle and Bone

by Mira Grant
Published by Subterranean Press on December 31, 2018
Pages: 128

, Buy on Amazon


We live in an age of wonders.

Modern medicine has conquered or contained many of the diseases that used to carry children away before their time, reducing mortality and improving health. Vaccination and treatment are widely available, not held in reserve for the chosen few. There are still monsters left to fight, but the old ones, the simple ones, trouble us no more.

Or so we thought. For with the reduction in danger comes the erosion of memory, as pandemics fade from memory into story into fairy tale. Those old diseases can't have been so bad, people say, or we wouldn't be here to talk about them. They don't matter. They're never coming back.

How wrong we could be.

It begins with a fever. By the time the spots appear, it's too late: Morris's disease is loose on the world, and the bodies of the dead begin to pile high in the streets. When its terrible side consequences for the survivors become clear, something must be done, or the dying will never stop. For Dr. Isabella Gauley, whose niece was the first confirmed victim, the route forward is neither clear nor strictly ethical, but it may be the only way to save a world already in crisis. It may be the only way to atone for her part in everything that's happened.

She will never be forgiven, not by herself, and not by anyone else. But she can, perhaps, do the right thing.

We live in an age of monsters.
I received this book for free from the publisher in exchange for an honest review. This does not affect my opinion of the book or the content of my review.
I am officially blown away. This little novella was amazing in both its detail and capacity for evoking emotions. I am absolutely stunned, and as a medical professional I am HARD to impress with books of this subject matter. Usually I find myself rolling my eyes so hard they hurt when reading books with doctors or nurses as the main characters, but not so with Kingdom of Needle and Bone!
While this is, technically, a science fiction/apocalyptic novel, it felt so close to what could or might happen that I found my heart pounding in my chest, my throat constricting with pain for the loss experienced by the characters. It is just close enough to the truth to be a truly uncomfortable read, and that makes it powerful. I loved Dr. Isabel, who truly cares about people and does everything in her power to help them, but who is also coldly logical to the very, very bitter end. How far is too far, to protect the ones we love? To protect the world? Somehow even in these few pages, Mira Grant manages to explore the age old question – do we act based on the greater good, or for the good of the few closest to us? Which makes us a monster?
I only wish this novella had been a full length book. I was not ready to leave any of the characters behind, I wanted more of their stories. I will definitely be reading more of Mira Grant's books, as well as looking out for her other books written under the name Seanan McGuire.

If you really enjoyed reading and would like to show your support for future content and help keep the blog running (my goal is to make the blog self-supporting), consider using the affiliate links on this page to buy your next book, or donate to the blog using one of the links below!
Reading this book contributed to these challenges:
Subscribe to Blog via Email