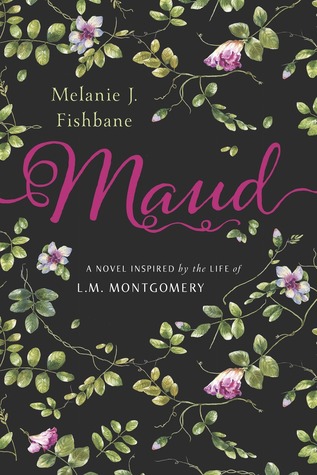 Maud
by
Melanie J. Fishbane
Published by
Penguin Teen
on April 25, 2017
Genres:
Historical
,
Young Adult
Pages:
376
, 
Buy on Amazon

Fourteen-year-old Lucy Maud Montgomery—Maud to her friends—has a dream: to go to college and, just like her idol, Louisa May Alcott, become a writer. But living with her grandparents on Prince Edward Island, she worries that this dream will never come true. Her grandfather has strong opinions about a woman's place in the world, and they do not include spending good money on college. Luckily, she has a teacher to believe in her, and good friends to support her, including Nate, the Baptist minister's stepson and the smartest boy in the class. If only he weren't a Baptist; her Presbyterian grandparents would never approve. Then again, Maud isn't sure she wants to settle down with a boy—her dreams of being a writer are much more important.

Life changes for Maud when she goes out West to live with her father and his new wife and daughter. Her new home offers her another chance at love, as well as attending school, but tensions increase as Maud discovers her stepmother's plans for her, which threaten Maud's future—and her happiness—forever.
I received this book for free from the publisher in exchange for an honest review. This does not affect my opinion of the book or the content of my review.
Maud is an engaging fictionalized account of the early life of Lucy Maud Montgomery, the creator of the Anne of Green Gables books beloved the world over. While a work of historical fiction, the book encompasses many known facts and events of Montgomery's life. I was very surprised to see how very similar, in many ways, her growing up years were to those of her character Anne. It was also very sad to see how, unlike Anne, she never really seemed to have support or love from much of her family. I was very intrigued to say the least, and will be looking at a full length biography of her in the future.
I was struck by how hard Montgomery worked to be able to write her stories. In a time when women were expected only to marry and have children, and anything else was considered strange or even evil, she chose education over even her current happiness or in some cases relationships with her family. She seems to have been a feminist before the term was coined. Though she did of course later marry and have children, it was only after she was an established and successful author.
The author takes time to shed light on the condition of women's rights at this time in Canadian history, as well as the plight of some of the native people such as the Metis. There is also particular emphasis on the conflict between different denominations within the Christian church.
The author has included a brief historical biography in the back of the book, along with specifics about what happened to certain characters. This really helped to tie up the story, especially since this particular book ended before Montgomery was even eighteen.
4.5/5 stars. Highly recommend for anyone who has enjoyed the Anne of Green Gables story!
---

If you really enjoyed reading and would like to show your support for future content and help keep the blog running (my goal is to make the blog self-supporting), consider using the affiliate links on this page to buy your next book, or donate to the blog using one of the links below!
Reading this book contributed to these challenges:
Subscribe to Blog via Email