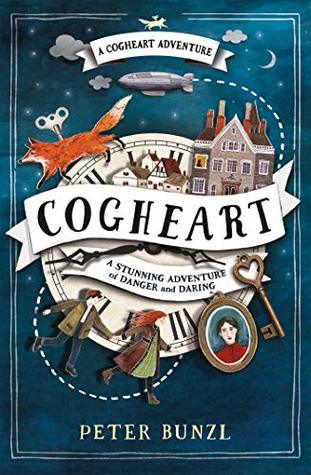 Cogheart
by
Peter Bunzl
on September 1, 2016
Genres:
Middle Grade
, 
Buy on Amazon

Some secrets change the world in a heartbeat. . . .

Lily's life is in mortal peril. Her father is missing and now silver-eyed men stalk her through the shadows. What could they want from her?

With her friends—Robert, the clockmaker's son, and Malkin, her mechanical fox—Lily is plunged into a murky and menacing world. Too soon Lily realizes that those she holds dear may be the very ones to break her heart. . . .

Murder, mayhem and mystery meet in this gripping Victorian adventure.
I received this book for free from the publisher in exchange for an honest review. This does not affect my opinion of the book or the content of my review.
Cogheart is a tale with many moving pieces, not unlike the steam-punk mechanicals that Lily's father builds. Unfortunately I think it's a bit flat, as I never felt very attached to the characters. Also, for a middle grade novel, there is an awful lot of proverbializing and "lessons learned" sort of speeches, which I found annoying and am sure many of the target audience would as well. It also has a bit of a dark feel in some places, not unlike the Series of Unfortunate Events series – only these dark events don't seem to have much effect on the characters except as plot devices.
Despite these flaws, I did finish the book and found the mech aspect interesting. I just have doubts about the book's ability to hold the attention of a middle grade reader due to the issues I've mentioned.
---

If you really enjoyed reading and would like to show your support for future content and help keep the blog running (my goal is to make the blog self-supporting), consider using the affiliate links on this page to buy your next book, or donate to the blog using one of the links below!
Reading this book contributed to these challenges:
Subscribe to Blog via Email