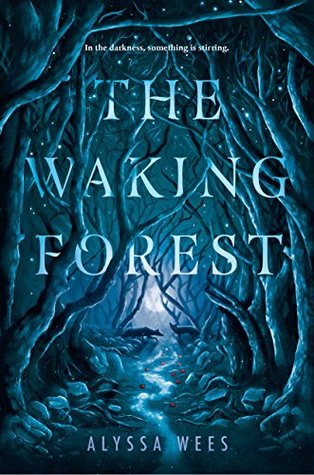 The Waking Forest
by
Alyssa Wees
on March 12, 2019
Genres:
Fantasy
,
magical realism
,
Young Adult
, 
Buy on Amazon

The waking forest has secrets. To Rhea, it appears like a mirage, dark and dense, at the very edge of her backyard. But when she reaches out to touch it, the forest vanishes. She's desperate to know more—until she finds a peculiar boy who offers to reveal its secrets. If she plays a game.

To the Witch, the forest is her home, where she sits on her throne of carved bone, waiting for dreaming children to beg her to grant their wishes. One night, a mysterious visitor arrives and asks her what she wishes for, but the Witch sends him away. And then the uninvited guest returns.

The strangers are just the beginning. Something is stirring in the forest, and when Rhea's and the Witch's paths collide, a truth more treacherous and deadly than either could ever imagine surfaces. But how much are they willing to risk to survive?
I received this book for free from the publisher in exchange for an honest review. This does not affect my opinion of the book or the content of my review.
I sort of do know what she means, sitting here in the semi-dark and the semi-silence. I have a scratchy, restless feeling, as if my soul were grinding against my skin, my bones, not necessarily wanting to get out but urging my body to go to impossible places, convinced I can touch the stars and not burn.
The Waking Forest is a story that is a true journey. I wasn't EXACTLY sure what to expect going into it, and I was almost halfway through before I was even sure what the heck I was reading! Perhaps not the most stellar start for a debut novel, BUT. Bear with me – and bear with the book, too. While I did only rate it at 3.5/5 stars, I also feel it is totally a book worth reading and I will gladly be reading the next novel that Alyssa Wees comes out with.
The first half of the book is told in alternating chapters between Rhea, in our modern world, and the Witch of the Wood, in a very odd dream-like world. I was SO confused as to what was supposed to be happening in these…but the writing is beautiful. If you are not into heavy descriptions and very sustained metaphors, you might not enjoy it. It's a very different style from what I've been reading recently, so it took a little while for it to grow on me. But grow on me it did, and eventually the prose (which could, admittedly, be considered kind of "purple" prose) was just painting these amazing pictures…so even if I was turned around and had no idea where the story was going, I was just enjoying the journey.
Eventually the two tales merge, and that is rather…mind-bending. There is enough foreshadowing that you sort of see it coming, but not…not…in the way it played out, or at least I didn't. The story shifts to an entirely fantasy world, with incredible creatures and magic. I really wish the magic had been better explained! I was still kind of confused by how everything worked in the end, but it was glorious and shiny and I liked it.
My absolute favorite part was Rhea's relationship with her sisters. These four girls are kicking ass and taking names and making no apologies – and dealing with their own issues along the way. There is some beautiful encouragement for those of us who struggle with anxiety in these pages – and the characters aren't considered less than or incapable because of it! I loved it. Absolutely loved it.
Overall, The Waking Forest isn't perfect but if you like fantasy and quirky characters, definitely give it a try. And keep an eye out for more books by Wees!
---

If you really enjoyed reading and would like to show your support for future content and help keep the blog running (my goal is to make the blog self-supporting), consider using the affiliate links on this page to buy your next book, or donate to the blog using one of the links below!
Reading this book contributed to these challenges:
Subscribe to Blog via Email