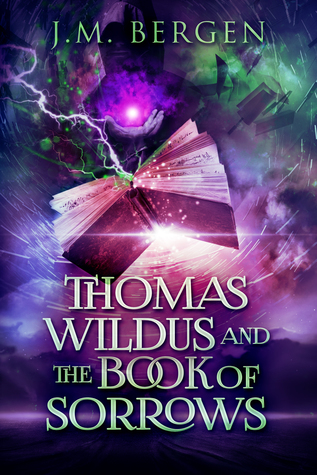 Thomas Wildus and the Book of Sorrows
by
J.M. Bergen
Published by
Elandrian Press
on February 2, 2019
Pages:
352
, 
Buy on Amazon

Thomas thinks he's an ordinary twelve year old, but when a strange little man with gold-flecked eyes gives him an ancient text called The Book of Sorrows, the world he knows is turned upside down. Suddenly he's faced with a secret family legacy, powers he can hardly begin to understand, and an enemy bent on destroying everything he holds dear. The more he reads and discovers, the deeper the danger to himself and the people he loves. As the race to the final showdown unfolds, Thomas must turn to trusted friends and uncertain allies as he seeks to prevent destruction at an epic scale.
I received this book for free from the publisher in exchange for an honest review. This does not affect my opinion of the book or the content of my review.
"Magic is real, Thomas. No matter what happens, always remember that magic is real."
Thomas Wildus and the Book of Sorrows feels like the start of something big. While there's not a TRUE cliffhanger ending, there is so much unfinished business – I was happy to see this is supposed to be the first of five books!
Thomas is an ordinary kid, obsessed with comic books and having doodle wars with his best friend, Enrique. His dad disappeared years ago and his mom is an insanely busy professor, but he's mostly pretty happy and knows he has a good life. Then weird things start to happen, weird things involving a book with a changing cover, and strange people appearing and seeming to stalk him. So yes…this book falls into the "chosen one" trope…but tropes only become tropes because people love them. We all just have our favorites. 😉
The first half of the book was setup. Which was…slightly off-putting. I was convinced this was going to be a 3 star read until I was over halfway through, but the last parts of the story bumped it up to a solid 4 stars! The writing during the first half is at times kind of clunky and awkward, not unlike the middle school audience the book is aimed at but hopefully not enough to put them off.
THEN, the action starts. And I was intrigued by the puzzles and the magic and the intrigue. It was really cool and I just kept finding more things to be curious about. This is also where all those loose ends start to appear, which obviously are leading into a huge epic adventure for the series. Thomas is kind of pulled in two directions here, as he's uncertain who to trust – and who wouldn't be, with all the things he thought he knew about himself and the world in general, suddenly appearing to be lies – and wants to both be loyal to his family and friends, and save the world. *wink wink* He's an incredibly likable character, as (so far) he has stayed humble and true to himself even with the discovery of his special abilities.
The bad guy, who stays in the background for most of the book, appears only in about the last quarter. And then,  what do you know! Is he REALLY a bad guy? Oh boy. Who is Thomas supposed to believe? I love that this presents a somewhat (only somewhat) morally gray appearing character in a story for this age group.
Obviously, there is a lot more to come in this story, and I'm looking forward to it. I'll definitely be reading the sequel, Thomas Wildus and the Wizard of Sumeria. Also, I'm totally on board with the galaxy-ish looking covers for these books.
Many thanks to Book Publicity Services for providing me with a free copy in exchange for an honest review!
---

If you really enjoyed reading and would like to show your support for future content and help keep the blog running (my goal is to make the blog self-supporting), consider using the affiliate links on this page to buy your next book, or donate to the blog using one of the links below!
Reading this book contributed to these challenges:
Subscribe to Blog via Email