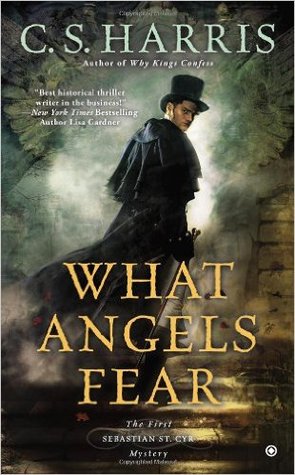 What Angels Fear (Sebastian St. Cyr, #1)
by
C.S. Harris
Published by
Berkley Books
on October 3, 2006
Pages:
410
, 
Buy on Amazon

It's 1811, and the threat of revolution haunts the upper classes of King George III's England. Then a beautiful young woman is found raped and savagely murdered on the altar steps of an ancient church near Westminster Abbey. A dueling pistol discovered at the scene and the damning testimony of a witness both point to one man, Sebastian St. Cyr, Viscount Devlin, a brilliant young nobleman shattered by his experience in the Napoleonic Wars.

Now a fugitive running for his life, Sebastian calls upon his skill as an agent during the war to catch the killer and prove his own innocence. In the process, he accumulates a band of unlikely allies, including the enigmatic beauty Kat Boleyn, who broke Sebastian's heart years ago. In Sebastian's world of intrigue and espionage, nothing is as it seems, yet the truth may hold the key to the future of the British monarchy, as well as to Sebastian's own salvation....
What Angels Fear is the first in C.S. Harris' Regency mystery series, which as of this writing is at fourteen books. STOP THE PRESSES! I've found a new favorite historical series! Ok, so I've only read the first one but I am completely head over heels and am spending WAY too much time searching for a copy of the out-of-print hardcover. Ahem.
"Life is full of scary things. The trick is to not let your fears get in the way of your LIVING."
Feels
Creepy, atmospheric, complicated, and even a little bit sexy! So many red herrings, so many things going on…and people with so many different layers to them. Holy cow. The murder mystery here is gruesome and horrible, and through the course of the book I really came to care about the victim and desperately wanted some justice for her. The overall tone was very gothic and at times creepy but not overly so.
Characters
Sebastian is SUCH an intriguing person. I love heroes and heroines that are somewhat morally gray, and he definitely falls into that category. He's 28 years old, has never had a happy home life (though his family has always been gentry and he's never wanted for creature comforts), and endured things during the war (possibly DID things during the war) that no human being should ever have to go through. Not all of his story is revealed in this book, and I'm looking forward to finding out more about him and his very strange family in the next installments. OH! He has some rather different physical abilities, that had me doing some serious side-eyeing when I first started reading…but what do you know, the author actually based them on an real genetic syndrome found most often in people of Welsh descent. AWESOMESAUCE.
Kat – an Irish-born actress with whom Sebastian has a history – is an equally fascinating character, and I really hope she appears more in the later books. I love how she's made her own way in the world, regardless of what society says about her or how she should conduct herself. She really seems to have a heart of solid gold and is someone I would love to get to know better.
Tom is a street urchin who basically adopts Sebastian despite his best efforts to dislodge the boy. Convinced that Sebastian won't last a day on the streets (being gentry, after all) without his help, Tom quickly endeared himself. I just want to scoop him up and hug him. And feed him.
There is a slew of interesting side characters as well! I'm hopeful some of them may become more prominent in the later books.
Setting
First of all, while C.S. Harris actually has a Ph.D. in history and the telling of the story definitely feels like it drops you into historical London, some liberties have definitely been taken with the language. Also, the main female characters in this book have some VERY modern ideas of themselves and their rights – which I thoroughly enjoyed, but is probably not very historically accurate. I'm not a historian myself, by any means, but the rest seems fairly true to the time period. There are cramped alleys, injustice, starving children, and grave robbers.
Plot
There is a LOT going on here, no joke. Political intrigue, sex scandals, murders (yes, plural), family secrets, broken hearts…AHHH! I loved it. Absolutely loved it. Of course the main focus of this book is on the murder of the young woman found dead in front of a church altar, and Sebastian's quest to prove that it was NOT him that killed her, but there are so many other threads woven through this book that are just as fascinating as the whodunit.
Flame Rating
3/5 flames! Sebastian and Kat still practically steam whenever they're in a room together, and there are some sexy scenes (without being very detailed about specifics). They have chemistry and don't want to admit it…until they do. Hah!
---
5/5 stars, and I can't wait to get to the next one! See what happens when you start reading some backlist books? Highly recommend if you like historical fiction, a good whodunit, with a little sexual tension thrown in.
---

If you really enjoyed reading and would like to show your support for future content and help keep the blog running (my goal is to make the blog self-supporting), consider using the affiliate links on this page to buy your next book, or donate to the blog using one of the links below!
Reading this book contributed to these challenges:
Subscribe to Blog via Email