Be sure to check out all the stops on the tour over at Prism Book Tours!
---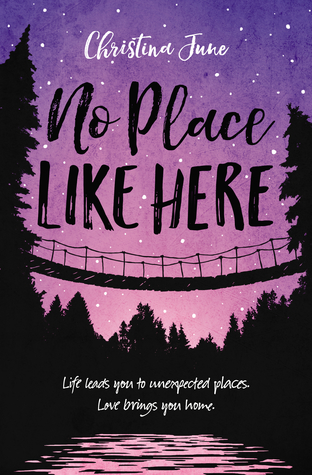 No Place Like Here
by
Christina June
Published by
Blink
on May 21, 2019
Genres:
Modern
,
Young Adult
Pages:
272
, 
Buy on Amazon

Ashlyn Zanotti has big plans for the summer. She's just spent a year at boarding school and can't wait to get home. But when Ashlyn's father is arrested for tax evasion and her mother enters a rehab facility for "exhaustion," a.k.a. depression, her life is turned upside down.

The cherry on top? Ashlyn's father sends her to work with a cousin she doesn't even know at a rustic team-building retreat center in the middle of nowhere. A self-proclaimed "indoor girl," not even Ash's habit of leaving breadcrumb quotes—inspirational sayings she scribbles everywhere—can help her cope.

With a dangerously careless camp manager doling out grunt work, an overbearing father trying to control her even from prison, and more than a little boy drama to struggle with, the summer is full of challenges. And Ashlyn must make the toughest decision of her life: keep quiet and follow her dad's marching orders, or find the courage to finally stand up to her father to have any hope of finding her way back home.
I received this book for free from the publisher in exchange for an honest review. This does not affect my opinion of the book or the content of my review.
No Place Like Here was so much more than I expected! I went into it thinking I was getting a somewhat fluffy summer camp novel (at only 272 pages I finished it in half a shift at work – yes, my job is that slow). While there were fluffy aspects, it was so much deeper and touched my heart in ways I was completely surprised by.
Ashlyn's entire world has been turned upside down. All her plans for the summer have gone out the window. Her parents BOTH seem to have abandoned her. She's been shipped off to stay with relatives she hasn't seen for nearly a decade. She plans to just keep her head down and her mouth shut, just like she has for the entire life she's spent with her overbearing, self-centered father. But then she realizes that she does still have a family that cares about her, and she starts to grow into herself. She grows SO MUCH in this short book, it was really amazing and yet still very believable.
I loved that she didn't just grow up and shut her parents out. She grew up and at least tried to start the healing process with them. Her mom's struggle with depression felt realistically portrayed, and I really appreciated the positive mental health rep in the book! Getting help is NOT a weakness, or a waste of time. YES!
Also, a HUGE thank you to Christina June for not making this a "romance is the answer" story. There is a little flirtation, a little kissing, a lot of attraction – but no real romance. So many stories portray romantic relationships as the cure-all for what ails us and it's just so not true!
Now I need to go back and read the books that came before this one. Apparently some of the same characters show up, so I'm personally hoping that after No Place Like Here we get to hear more of Baxter's story…
5/5 stars. I loved this book! I'll be waiting for anything else Christina June puts out.
---

If you really enjoyed reading and would like to show your support for future content and help keep the blog running (my goal is to make the blog self-supporting), consider using the affiliate links on this page to buy your next book, or donate to the blog using one of the links below!
Reading this book contributed to these challenges:
Subscribe to Blog via Email