I'm baaaaaack! And I'm super excited to kick off all the new content I have planned with this blog tour for The Rogue King. Keep reading for my review!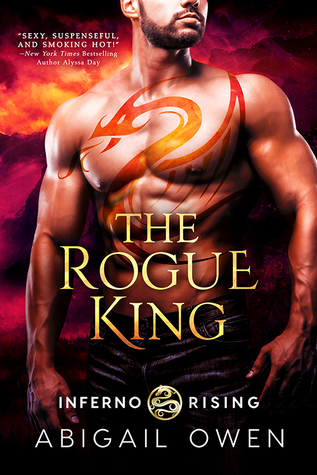 The Rogue King (Inferno Rising, #1) by Abigail Owen
Published by Entangled: Amara on July 30, 2019
Pages: 448


Kasia Amon is a master at hiding. Who—and what—she is makes her a mark for the entire supernatural world. Especially dragon shifters. To them, she's treasure to be taken and claimed. A golden ticket to their highest throne. But she can't stop bursting into flames, and there's a sexy dragon shifter in town hunting for her...

As a rogue dragon, Brand Astarot has spent his life in the dark, shunned by his own kind, concealing his true identity. Only his dangerous reputation ensures his survival. Delivering a phoenix to the feared Blood King will bring him one step closer to the revenge he's waited centuries to take. No way is he letting the feisty beauty get away.

But when Kasia sparks a white-hot need in him that's impossible to ignore, Brand begins to form a new plan: claim her for himself…and take back his birthright.
I received this book for free from the publisher in exchange for an honest review. This does not affect my opinion of the book or the content of my review.
Goodreads / Amazon / Barnes & Noble / iBooks / Kobo / Google Play
---
The Rogue King was EXACTLY what I needed during the last few VERY. STRESSFUL. weeks of my organic chemistry class! It was an amazing book that was total candy for my mind (and that cover, candy for the eyes, for sure…even though I am as a rule opposed to the shirtless-man covers).
From what I gathered on GoodReads, most of the author's other books have been on the tame side of sexy…THIS ONE IS NOT and it was delicious. Definitely the kind to make your nether regions tingle, so be forewarned if you're not into that or go get it NOW if that's your thing! There is also a witty, dry sort of humor sprinkled throughout that I absolutely loved and had me chuckling out loud several times.
Kasia and Brand have total chemistry and Brand is hot AF. Also, there are dragons (I might be slightly obsessed) and I am sure the next books will have more! I feel like there will probably be four in this series, due to the fact that Kasia has three sisters…I sure hope so. I am definitely keeping my eyes open for the next installments.
4/5 stars. I took off a star for the plot. It's kind of predictable, but honestly if you are reading this for plot you're reading it for the wrong reasons. 😛 A few of the side characters are the rather flat, but I'm hoping maybe they get fleshed out some more in later books. Also, I'm not sure if this book should be classified as paranormal romance or urban fantasy romance…I would usually lean UF for one of this style, but there are also vampires and vampires always make me think paranormal…whatever it is, I thoroughly enjoyed it!
---
Author Bio:

Multi-award-winning paranormal romance author, Abigail Owen, loves plots that move hot and fast, feisty heroines with sass, alpha heroes with heart, a dash of snark, and oodles of sexy shifters! Other titles include wife, mother, Star Wars geek, ex-competitive skydiver, spreadsheet lover, Dr. Seuss quoter, eMBA, organizational guru, Texan, Aggie, and chocoholic.

Abigail grew up consuming books and exploring the world through her writing. She attempted to find a practical career related to her favorite pastime by earning a degree in English Rhetoric (Technical Writing). However, she swiftly discovered that writing without imagination is not nearly as fun as writing with it. She currently resides in Austin, Texas, with her own personal hero, her husband, and their two children, who are growing up way too fast.

For the latest news and exclusive excerpts, sign up for her newsletter here: http://eepurl.com/Lw2XH

Abigail also writes award-winning sexy contemporary romance and romantic comedy under the name Kadie Scott. AND sweet contemporary romance under the name Kristen McKanagh.

Website / Goodreads / Facebook / Twitter / Instagram / Pinterest / Bookbub
GIVEAWAY!
a Rafflecopter giveaway

Reading this book contributed to these challenges:
Subscribe to Blog via Email