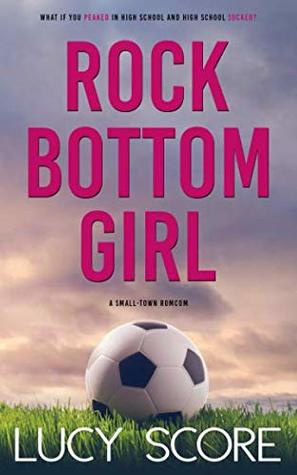 Rock Bottom Girl: A Small Town Romantic Comedy
by
Lucy Score
on March 8, 2019
Genres:
Romance
Buy on Amazon

"You may be faking the relationship, but you're not faking the orgasms."

Downsized, broke, and dumped, 38-year-old Marley sneaks home to her childhood bedroom in the town she couldn't wait to escape twenty years ago. Not much has changed in Culpepper. The cool kids are still cool. Now they just own car dealerships and live in McMansions next door. Oh, and the whole town is still talking about that Homecoming she ruined her senior year. Desperate for a new start, Marley accepts a temporary teaching position. Can the girl banned from all future Culpepper High Homecomings keep the losing-est girls soccer team in school history from killing each other and prevent carpal tunnel in a bunch of phone-clutching gym class students?

Maybe with the help of Jake Weston, high school bad boy turned sexy good guy. When the school rumor mill sends Marley to the principal's office to sign an ethics contract, the tattooed track coach, dog dad, and teacher of the year becomes her new fake boyfriend and alibi—for a price. The Deal: He'll teach her how to coach if she teaches him how to be in a relationship. Who knew a fake boyfriend could deliver such real orgasms? But it's all temporary. The guy. The job. The team. There's too much history. Rock bottom can't turn into a foundation for happily ever after. Can it?

Warning: Story also includes a meet-puke, a bouffanted nemesis, a yard swan and donkey basketball, a teenage-orchestrated makeover, and a fake relationship that gets a little too real between the sheets.
I received this book for free from the publisher in exchange for an honest review. This does not affect my opinion of the book or the content of my review.
---
I've been branching out and reading more romance lately. Partially because I've needed fluffy books to soothe my increasingly exhausted brain, and partially because I'm not as cynical about love as I used to be. 😀 I have two absolute musts when it comes to romance –
The characters MUST be likable. Not perfect – no one wants perfectly manicured heroes and heroines (or if you do, that's fine, but not my type of book), we want to be able to relate on some level to the characters! Even in fantasy books, I want to relate to the characters emotions if I can't relate to the setting or their position in life.
It has to be written well – not an overabundance of plot holes, if it's set in a historical time it needs to be at least SOMEWHAT accurate, if it's modern day make it relevant and believable.
Rock Bottom Girl knocked it out of the freakin' park. I am a Lucy Score convert. This book warmed my heart, tickled my funny bone, and gave me all the warm fuzzies (how's that for using ALL the expressions).
I adore Marley and Jake together. ADORE. And Marley is to date THE most relatable heroine in a romance novel that I've ever come across. I got teary at several points because YES GIRL I get you, I've been there. Life knocks you down and sometimes it sucks. And then it might just throw you a Jake Weston.
Reasons to Like Jake Weston

:
Marley never fell out-of-like with him from high school
He's a sexy MF who has actually done something legitimate with his life
He cares about the kids he coaches
He's great in bed
He's a dog dad
Did I mention he's a dog dad?
Reasons Marley is THE MOST RELATABLE

:
She's in her 30s and to her shock, finds herself crash landing at her parents' after the end of a long term relationship
She's mildly depressed (see above) and has stopped giving a shit about herself
She's having a slight identity crisis involving her career
She loves wine and pizza
She loves dogs
She has a sex drive!! And isn't ashamed of it!!
She's also just as clumsy as myself and it makes for some HILARIOUS moments
Also, there's a goth foster kid, and an entire soccer team of teenage girls. And Jake's dog. Oh, and there are some STEAMY times. Get the cold shower ready!
Rock Bottom Girl is just so real. I loved it so much. The small town, the work drama, the lovable family. I loved how Marley slowly – with the help of her family, friends, the girls on her soccer team, and yes, Jake – pulls herself up and realizes what she really wants from life, and where she can make a difference. So. Freaking. Relatable.
5/5 glowing stars. This is a stand-alone, but I'll be looking for more similar books from Lucy Score!
---

If you really enjoyed reading and would like to show your support for future content and help keep the blog running (my goal is to make the blog self-supporting), consider using the affiliate links on this page to buy your next book, or donate to the blog using one of the links below!
Reading this book contributed to these challenges:
Subscribe to Blog via Email