First of all, a huge apology to Xpresso Book Tours – this post is VERY late, as I've been sick for over a week and I forgot everything except (possibly) my name.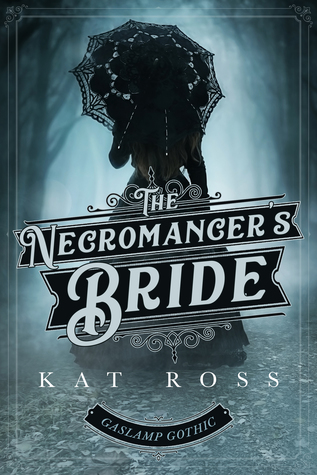 The Necromancer's Bride (Gaslamp Gothic, #4) by Kat Ross
Published by Acorn on September 6, 2019
Genres: Fantasy, Historical, Romance
Pages: 350

, Buy on Amazon


Forgiveness is not Gabriel D'Ange's strong suit.

A self-appointed soldier of God with a penchant for ruthlessly punishing his enemies, he vanished after Anne Lawrence stabbed him with his own dagger.

The smart thing would be to let him go.

Unfortunately, Anne's life isn't just lonely without Gabriel. It's insufferably boring.

Determined to heal the rift between them, she goes in search of her tempestuous former lover, black parasol in hand and daeva magic crackling at her fingertips. But Gabriel has his own plans afoot and Anne finds herself drawn into one of his tangled webs, much against her better judgment.

Gabriel's nemesis has reappeared in Brussels, a vile slaver who's plundering the Congo Free State with the blessing of King Leopold. Gabriel might be willing to give Anne a second chance, but not until Jorin Bekker's head is lying at his feet.

Back in London, the quasi-reformed necromancer Balthazar sets his sights on the same quarry. He holds a very personal grudge against Bekker — and killing him might be the only way to keep Gabriel D'Ange from Balthazar's own throat.

When the hunters collide at a lavish gala thrown by the king, Anne learns just how far she'll go to save the man she loves.

Note: The Necromancer's Bride is the sequel to A Bad Breed, which should be read first.
I received this book for free from the publisher in exchange for an honest review. This does not affect my opinion of the book or the content of my review.
---
The Necromancer's Bride is an excellent continuation of the story begun in A Bad Breed, and as the fourth installment in the Gaslamp Gothic series! I was so excited to read more about Anne and Gabriel and the whole scheme of everything that's going on. I still need to go back and read the first two books in the series (which you do NOT have to read to start with A Bad Breed, but you DO need to read A Bad Breed before reading The Necromancer's Bride…yes, I know, slightly confusing). Also there's a 5th novel coming!! It's not on GoodReads yet but was named in the end notes for Necromancer, and it's called The Dead Ringer.
Favorite Things
"You won't be laughing so hard when my wife gets here," Gabriel said. 
The guards exchanged a solemn look.
"His wife," Daan echoed in a quaking voice. "Well, now I'm truly terrified."…
"Will she bring her rolling pin?" 
"No, no, it'll be knitting needles," Daan put in. "She'll poke us and tell us we're very naughty boys."
This exchange. Because if they only knew…and then they are properly educated and it's both awesome and hilarious.
Besides the romance, which I found much more believable in this book than the last – if you read my review of A Bad Breed, due to the whole Belle and the Beast thing felt kind of forced – there was intrigue and evilness going on that was awesome and kept me reading.
Balthazar! Can someone please give me some more of Balthazar's story? He's such a morally grey character and yet he seems to be an actual teddy bear inside.
Anne continues to be a total badass, and in this book she is the BADDEST of the badasses. Gabriel, of course, and Balthazar also kickass, but they get themselves into PROBLEMS and have to be rescued by the tiny little lady. It's awesome. YES PLEASE.
She was barefoot and painted head to toe in dried blood. With her wild auburn hair, she reminded Balthazar of the Celtic queen who had burned Londinium to ashes and whipped the Romans so badly they almost fled Britain. 
Less Favorite Things
There is still so much unexplained about the magic of this world, and the daevas and necromancers in general. Where did this come from? Why are they immortal? I need details. This might have been explained in the first books of the series, but I feel like if the later books are to be read as standalones there needs to be some kind of refresher course in them as well. I found myself a bit frustrated by the lack of info and occasionally confused.
Overall 4/5 stars, and I'm eagerly waiting for the next one!
---
Goodreads / Amazon / Barnes & Noble / iBooks / Kobo / Google Play
Author Bio:

Kat Ross worked as a journalist at the United Nations for ten years before happily falling back into what she likes best: making stuff up. She's the author of the Fourth Element and Fourth Talisman fantasy series, the Gaslamp Gothic paranormal mysteries, and the dystopian thriller Some Fine Day. She loves myths, monsters and doomsday scenarios. Check out Kat's Pinterest page for the people, places and things that inspire her books.
GIVEAWAY!
a Rafflecopter giveaway

Reading this book contributed to these challenges:
Subscribe to Blog via Email