I'm joining in the fun with a Can't-Wait Wednesday, a weekly meme hosted at Wishful Endings, to spotlight and discuss the books we're excited about that we have yet to read. Usually the books are ones yet to be released. It's based on Waiting on Wednesday, hosted by Jill at Breaking the Spine.
---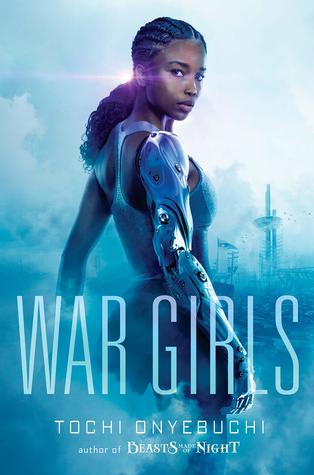 War Girls (War Girls, #1)
by
Tochi Onyebuchi
Published by
Razorbill
on October 15, 2019
Pages:
464
Buy on Amazon

Two sisters are torn apart by war and must fight their way back to each other in a futuristic, Black Panther–inspired Nigeria.

The year is 2172. Climate change and nuclear disasters have rendered much of earth unlivable. Only the lucky ones have escaped to space colonies in the sky.

In a war-torn Nigeria, battles are fought using flying, deadly mechs and soldiers are outfitted with bionic limbs and artificial organs meant to protect them from the harsh, radiation-heavy climate. Across the nation, as the years-long civil war wages on, survival becomes the only way of life.

Two sisters, Onyii and Ify, dream of more. Their lives have been marked by violence and political unrest. Still, they dream of peace, of hope, of a future together.

And they're willing to fight an entire war to get there.

Acclaimed author Tochi Onyebuchi has written an immersive, action-packed, deeply personal novel perfect for fans of Nnedi Okorafor, Marie Lu, and Paolo Bacigalupi.
This book just sounds amazing. Especially for the representation. It's set in an alternate version of Nigeria (as were the author's previous books, which I haven't read). I've preordered and am eagerly awaiting it! Comes out October 15, and you can read an excerpt from the first chapter here!
---

If you really enjoyed reading and would like to show your support for future content and help keep the blog running (my goal is to make the blog self-supporting), consider using the affiliate links on this page to buy your next book, or donate to the blog using one of the links below!
Subscribe to Blog via Email