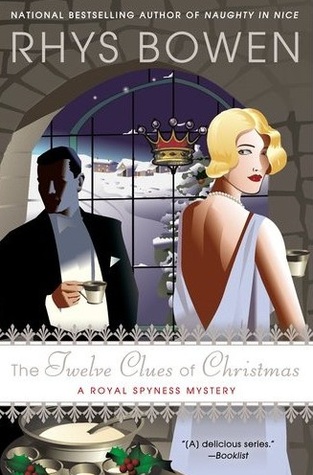 The Twelve Clues of Christmas (Her Royal Spyness Mysteries, #6)
by
Rhys Bowen
Published by
Berkley
on November 6, 2012
Genres:
Cozy
,
Historical
,
Mystery
Pages:
311
, 
Buy on Amazon

She may be thirty-fifth in line for the throne, but Lady Georgiana Rannoch cannot wait to ring in the New Year—before a Christmas killer wrings another neck… On the first day of Christmas, my true love gave to me—well, actually, my true love, Darcy O'Mara, is spending a feliz navidad tramping around South America. Meanwhile Mummy is holed up in a tiny village called Tiddleton-under-Lovey with that droll Noel Coward! And I'm snowed in at Castle Rannoch with my bumbling brother, Binky, and sourpuss sister-in-law, Fig. So it's a miracle when I contrive to land a position as hostess to a posh holiday party in Tiddleton. The village is like something out of A Christmas Carol! But no sooner have I arrived than a neighborhood nuisance, a fellow named Freddie, falls out of a tree dead. On my second day, another so-called accident results in a death – and there's yet another on my third. Perhaps a recent prison break could have something to do with it…that, or a long-standing witch's curse. But after Darcy shows up beneath the mistletoe, anything could be possible in this wicked wonderland.

Includes an English Christmas companion, full of holiday recipes, games, and more!
The Twelve Clues of Christmas completely rekindled my interest in this series! I was starting to debate whether or not I wanted to continue with this series after Naughty in Nice, which was lighthearted and fun but not much mystery or substance and nothing really progressed in the main plot. I'm so glad I kept reading! Book 6 was soooo much better. There was a real mystery in this one, and things kept happening at such a pace I could barely put it down and even though I had suspicions about the killer throughout the book I didn't actually figure it out until about the last third.
Things I Liked
Darcy had some more page time! He and Georgie seemed to work things out a little better and I liked that.
Georgie is, per usual, trying to find somewhere to live and somehow to support herself and this time instead of the queen coming through with an "assignment," she actually finds a job that suits both herself and the royal relatives. Her mother just happens to be nearby, being her usual flighty but charming self.
The murders – yes, more than one this time – just kept coming and getting stranger and…is it weird that I really liked that? 😛
Things I Didn't Like
Thoroughly enjoyed this one, honestly, but some of it still felt a little unrealistic and a tiny bit corny. I think it's really hard for cozy mysteries to avoid that entirely.
Georgie, for all her talk about wishing she was more experienced in the ways of the world and envying her carefree friend Belinda, is ridiculously straitlaced. I guess I shouldn't be expecting anything else, given how careful she is to not bring any shame to the royal family, but still. Then again, maybe her character is written that way to keep the story's romance in the "sweet" category.
If You Like…
…the Amelia Peabody series, or the Maisie Dobbs series, you'll probably enjoy the Her Royal Spyness series as well!
---

If you really enjoyed reading and would like to show your support for future content and help keep the blog running (my goal is to make the blog self-supporting), consider using the affiliate links on this page to buy your next book, or donate to the blog using one of the links below!
Reading this book contributed to these challenges:
Subscribe to Blog via Email