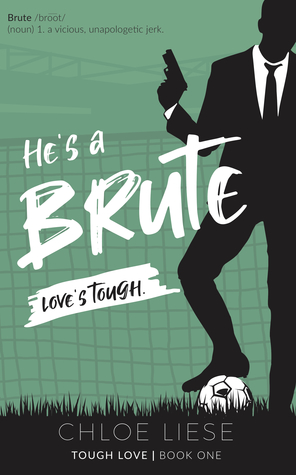 He's a Brute (Tough Love, #1)
by
Chloe Liese
on May 6, 2019
Genres:
Romance
Buy on Amazon

Every good scientist knows the second law of thermodynamics: the universe's disorder, entropy, is always increasing. Professionally and personally speaking, Nairne's familiar with the principle. After a streak of costly fame, now she's set on saving the world, microscope in hand, and there's no time for romance. Problem is, when a rude, despicably sexy Adonis shows up to run their board meeting, chemistry and its ensuing chaos become more than a formula—now they're a burning hot reality.

Mafia prince. Professional footballer. Bad boy demeanor and a reputation for being as talented between the sheets as he is on the pitch. Rumors are the man's an absolute brute. And he turns out to be just as demanding, controlling and vicious in person as he is on paper. The Law of Attraction's proven true, as Nairne finds herself accepting Zed's proposal: rough, wild stress release, more orgasms than she can count, and most importantly—no falling in love.

Agreement in place. End date secured.

No attachments. No forever.What could possibly go wrong?Book One in the Tough Love Series—an enemies to lovers, suspenseful romance, full of sexy Italians, bedroom negotiations, feisty heroines, and an ending that'll both satisfy you and leave you ready for more!

**CONTAINS SEXUAL CONTENT & EXPLICIT LANGUAGE 18+**
I received this book for free from the publisher in exchange for an honest review. This does not affect my opinion of the book or the content of my review.
---
He's a Brute was Chloe Liese's debut novel, and wow did it pack a punch! I did admittedly read these books out of order (read She's a Spitfire, which is Tough Love #2, first), and while technically that's fine I would definitely recommend starting with the first book. This is a three book series involving the same couple. I enjoyed the first two books so much that I bought hard copies of all three, even though I had eARCs of the first two!
A lot of reviews said this was a 50 Shades-esque novel. I've never read 50 Shades, so I can't say either way. There is dominant/submissive kinky sex between Zed and Nairne, but it is completely consensual. Zed is rough around the edges, arrogant, and emotionally closed off, but he makes sure Nairne is 100% okay with whatever he does before he does it. There's a contract and everything.
Things I Liked
Consent! Consent! Consent! For this type of kink to sit well with me consent has to figure in immediately, not as an afterthought, and it totally did. Made the steamy scenes even hotter. And they were HOT. Phew!
Zed! I like alpha males, what can I say. Muscles and confidence. Mmmhm yes please. Besides being a pro soccer player, he's also in the ruling levels of the Italian Mafia. Realistic? No. But romances around pro sports players AREN'T realistic, in my opinion, because they are so rare. So it didn't bother me.
NAIRNE. I love Nairne so so much. She's turned on by Zed's dominance but she doesn't let him push her around outside of the bedroom and I am HERE for it. My girl!! Also, she is such a strong person. As a star football (soccer) player herself, she suffered a traumatic injury that left her in a wheelchair. While this understandably caused her a great deal of mental and emotional anguish, she doesn't let it completely consume her. She struggles – who wouldn't – but she keeps fighting.
The relationship between Nairne and her best friend, Elodie! They have each other's backs, no matter what. I loved them together so much. It was good to see a book with positive female friendships.
Things I Didn't Like
There was a LOT going on in this book. I think it was because the author is introducing all of this crap that Nairne and Zed have to go through in the series of three books, but it was just like…whoa, Nellie, slow down!!
Zed's older, female mentor/lover. Yick. I know things like that happen, because bad people do bad things…which would have been fine, but I didn't feel like it was dealt with well. Zed never really did deal with it, and I feel like he needs to because that's really messed up. Maybe in the later books? I hope so.
The whole thing with Nairne's father was a little too wrapped-up-in-a-bow. It felt completely out of place and unnecessary and unlikely. I was glad it occurred at the end of the book instead of the beginning because I'm honestly not sure I would have finished it!
4/5 stars overall.
I love Zed and Nairne and if you enjoy romance with lots of steamy sex, a little danger, and a lot of banter, this one is for you!
---

If you really enjoyed reading and would like to show your support for future content and help keep the blog running (my goal is to make the blog self-supporting), consider using the affiliate links on this page to buy your next book, or donate to the blog using one of the links below!
Reading this book contributed to these challenges:
Subscribe to Blog via Email