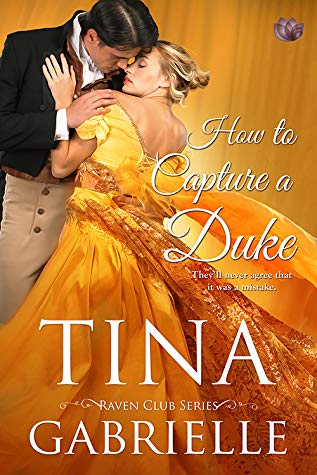 How to Capture a Duke
by
Tina Gabrielle
on October 14, 2019
Genres:
Historical
,
Romance
Pages:
150
Buy on Amazon

Lady Olivia, the youngest sister of the Earl of Castleton, has no patience for the boring gentlemen of aristocratic society. She longs for a more adventurous life like the ladies who visit the Raven Club. But her plans are thwarted when her family drags her to a country house party to meet the elusive Duke of Keswick.

Tristan Cameron, the Duke of Keswick, finds Olivia in his stables. She believes him to be the stable master, and he doesn't dissuade her of the notion. He has no interest in entertaining one of the spoiled, self-indulgent ladies who've invaded his home. Except, Olivia is neither of those things, and their shared kiss during a ride results in combustible passion.

And a potential scandal.

Olivia is relieved when the handsome stable master comes to her aid as her alibi, but that relief fades to anger when she suddenly finds herself betrothed to the harsh, foul-tempered duke.

Tristan believes he's been trapped by a scheming, title-seeking lady. To make matters worse, she's utterly captivating. He plans on leaving her behind in the country immediately after their vows, but Tristan soon finds himself battling temptation and Olivia's stubborn determination to be the Duchess he doesn't believe he deserves...
I received this book for free from the publisher in exchange for an honest review. This does not affect my opinion of the book or the content of my review.
---
Regency romances aren't really my thing, but I was drawn in by the synopsis of this one. When the request for extended blog coverage came out I jumped on it. I'm very excited to say that I really loved it!! Totally surprised myself, and well done to the author! How to Capture a Duke is the third book in the Raven Club series, but it can completely be read as a standalone. The other two books are based around Lady Olivia's brother and sister, and after reading this one I really want to read their stories – but it is definitely not necessary to have done so before diving into this one!
I loved Olivia's spunk and the way she continually made the best of a bad situation, and my heart absolutely ached for Tristan. Despite his privilege as a duke, his heart and soul have been badly trampled by society. It's really a wonder he didn't turn out to be a complete ass! Oh, and they're completely hot for each other. There are a couple of SIZZLING sex scenes. You have been warned! Also, Tristan's grandmama is the bomb. I love her so much. She is absolutely amazing and I want to be her when I grow up.
I have a lovely excerpt to share, so I'm keeping my review short and sweet. You really don't want to miss the excerpt so be sure to keep reading! There's also a giveaway at the end of the post, so be sure to enter that as well. 🙂
---
HOW TO CAPTURE A DUKE
A Raven Club Novel

Copyright © 2019 by Tina Gabrielle

"I don't want my drunken duchess to cause a scene in a casino," Tristan said.

Olivia felt her temper rise. "Your duchess!" she screeched. "You do not want a duchess."

He leaned forward, his face inches from hers. "Now that I have one, I've decided to keep her."

"Keep me? What on earth does that mean?"

"It means I expect my wife to behave like a lady, not a tavern doxy."

He caught her hand before it made contact with his cheek. His dark gaze narrowed. "I suppose I deserve your outrage, but do not seek to strike me again."

Perhaps if the world didn't spin, Olivia would be afraid. But she had never feared physical harm from him. Other things, yes, but not physical harm.

She licked suddenly dry lips. His gaze lowered to her mouth, and she felt as if he'd touched her there, his stare had turned so heated. The air shifted in the carriage, like a storm that blew away. She was left with a heightened awareness of lightning about to strike. She felt warm all over, as if he'd hauled her against his chest. She should be furious. What was wrong with her?  

"You drive me mad." He released her wrist but didn't move, and neither did she. They stayed suspended in their seats, inches apart, eyes connecting.

"Why do you care? If you refuse to consummate our marriage, am I to stay untouched forever?" 

"No," he said, his voice rough. "You are young and lovely and should experience passion."

It must be the whisky that was making her bold, but she didn't care. "Do you prefer I seek a lover, then?"

"No. The thought of you with another does not sit well with me."

Olivia's pulse leaped. Oh. She'd never expected him to say such things. Never expected him to make such an admission. "Why?"

"It's my right to bed you and your right to be with me. For me to make love to my wife. To make you cry out with passion."

Oh my.

She could get lost in the longing in his eyes. For a brief moment, she imagined things had been different between them. He wasn't a duke, they weren't forced to marry, and their pasts had no consequence. They were simply two strangers ensconced in the intimacy of a carriage. 

"I'd start here." Tristan reached for her hand and drew back her glove to place a kiss on the pulse point of her wrist. She stifled a gasp at his gentleness and the brush of his lips on the sensitive spot. Then, slowly, he peeled off her glove and kissed the center of her palm. 

She watched the top of his head, and she longed to bury her fingers in the dark locks, to see if they were as soft as they appeared. Then he lifted his head and met her eyes. He was close, so close, and she wanted to kiss him so badly she ached. 

"And then?" she asked.

"Then I'd kiss your lips."
---
Tour Wide Giveaway
To celebrate the release of HOW TO CAPTURE A DUKE by Tina Gabrielle, we're giving away a paperback copy of How to Best a Marquess by Tina Gabrielle to one lucky winner!
GIVEAWAY TERMS & CONDITIONS:  Open to internationally. One winner will receive a paperback copy of How to Best a Marquess by Tina Gabrielle. This giveaway is administered by Pure Textuality PR on behalf of Entangled Publishing.  Giveaway ends 11/6/2019 @ 11:59pm EST.  CLICK HERE TO ENTER!
About Tina Gabrielle
Best-selling author TINA GABRIELLE is an attorney and mechanical engineer whose love of reading for pleasure helped her get through years of academia. She often picked up a romance and let her fantasies of knights in shining armor and lords and ladies carry her away. She is the author of adventurous Regency historical romances for Entangled Publishing and Kensington Books. Tina also writes best-selling cozy mysteries as Tina Kashian for Kensington Books.
Publisher's Weekly calls her Regency Barrister's series, "Well-matched lovers…witty comradely repartee." Tina's books have been Barnes & Noble top picks, and her first book, Lady Of Scandal, was nominated as best first historical by Romantic Times Book Reviews. Tina lives in New Jersey and is married to her own hero and is blessed with two daughters. She loves to hear from readers. Visit her website to learn about upcoming releases, join her newsletter, and enter free monthly contests at www.tinagabrielle.com
Website  |  Facebook  |  Twitter  |  Goodreads  |  Amazon
This promotion is brought to you by Pure Textuality
Reading this book contributed to these challenges:
Subscribe to Blog via Email