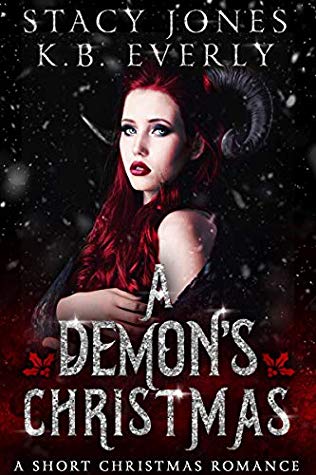 A Demon's Christmas
by
Stacy Jones
,
K.B. Everly
Genres:
Romance
Pages:
58
Buy on Amazon

After centuries of feeling alone, Krampus' favorite demon, Holly, has decided to change the rules.
On Christmas Eve, when the demons are let loose to capture human prey, Holly finds three men who fit the sacrificial bill. Little does she know the violent Vien, the guilty Nash, and the sad Grey are everything she needs to escape the loneliness of her long existence.
With midnight coming fast and the arrival of Krampus imminent, Holly must decide if she should do her job and throw the men to the depths of Krampus' hell, or ask her master for one gift.
To make a demon's Christmas wish come true.
*Previously published as Unholy Temptations in Deadly Night: A Twisted Christmas Anthology
Okay, so, full disclosure: this is basically written porn. I feel like it kind of belongs on a site like Literotica. But what do I know? 😛 There's a little teensy bit of a plot, but it's only 58 Kindle pages long so not much. It's hot and steamy and really tries to have a little something for everyone's taste – which made it feel a bit scattered and is the reason my rating isn't higher. I loved the description of Santa vs. Krampus and wish that part had been more involved and longer – but maybe the authors can do something with that later!
If you're looking for something to keep you warm between the sheets right around this time of year, it'll definitely fit the bill. It's a true quickie. High on pleasure, low on commitment. Won't stick around much in your memory but might interest you in reading the authors' longer works (a few of which, it turned out, were already on my TBR).
---

If you really enjoyed reading and would like to show your support for future content and help keep the blog running (my goal is to make the blog self-supporting), consider using the affiliate links on this page to buy your next book, or donate to the blog using one of the links below!
Subscribe to Blog via Email