Time to wield the axe again – I'm mercilessly culling my TBR list on GoodReads with the amazing Down the TBR Hole meme by Lia at Lost in a Story!
Most of you probably know this feeling. Your Goodreads TBR pile keeps growing and growing and it seems like there is no light at the end of the tunnel. You keep adding, but you add more than you actually read. And then when you're scrolling through your list, you realize that you have no idea what half the books are about and why you added them. Well, that's going to change!
It works like this:
Go to your Goodreads to-read shelf.
Order on ascending date added.
Take the first 5 (or 10 if you're feeling adventurous) books. Of course if you do this weekly, you start where you left off the last time.
Read the synopses of the books.
Decide: keep it or should it go?
When I started this series of posts, I had 604 books on my TBR list. As of today, I have 616 (the same number I started with LAST week). So let's see how this one goes. Up this week are numbers 72-76 of my original list. Covers link to GoodReads!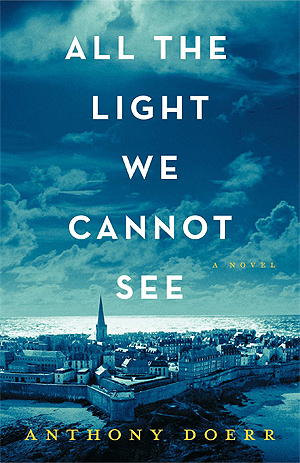 Title/Author: All the Light We Cannot See, by Anthony Doerr
Date Added: December 28, 2014
Thoughts: I'm slightly suspicious of this being some kind of Nazi romance, but it has SO MANY stellar reviews I'll have to try it at some point.
Judgment: Keep.
Title/Author: I Shall Be Near to You, by Erin Lindsay McCabe
Date Added: December 28, 2014
Thoughts: I was going to keep this, then I happened to read a review that had some spoilers (they were tagged, and I read anyway), and they were things that would really, really have bothered me about the book. Also an excerpt I read had the characters "talking" in a written-out accent, which always annoys me.
Judgment: Go.

Title/Author: Stolen (Women of the Otherworld #2), by Kelley Armstrong
Date Added: December 28, 2014
Thoughts: I read the first one of this series and while it's nothing spectacular it was a fun, well-written book. Brain candy that doesn't grate on my grammar-fanatic tendencies.
Judgment: Keep. Also find a copy.
Title/Author: What Angels Fear (Sebastian St. Cyr #1), by C.S. Harris
Date Added: December 30, 2014
Thoughts: Recommended by Sharon K. Penman…and I've loved everything I've read by her!
Judgment: Keep.

Title/Author: Denyse Schmidt Quilts, by Denise Schmidt
Date Added: January 4, 2015
Thoughts: While I would like to have this book on my shelf for reference, it's not one I would sit down and read front to back.
Judgment: Go.
There we have it! 2/5 seems to be my new normal. Hehe. Now if I could just cut down on the number I add each week!