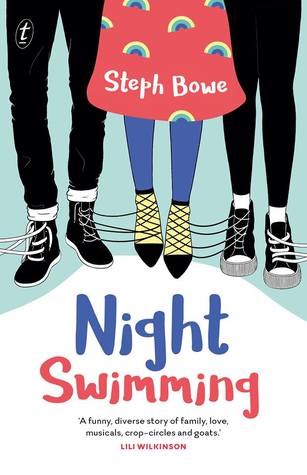 Night Swimming

by Steph Bowe
Published by Text Publishing on April 3rd 2017
Genres: Modern, Young Adult
Pages: 311

, Buy on Amazon


Imagine being the only two seventeen-year-olds in a small town. That's life for Kirby Arrow—named after the most dissenting judge in Australia's history—and her best friend Clancy Lee, would-be musical star.

Clancy wants nothing more than to leave town and head for the big smoke, but Kirby is worried: her family has a history of leaving. She hasn't heard from her father since he left when she was a baby. Shouldn't she stay to help her mother with the goat's-milk soap-making business, look after her grandfather who suffers from dementia, be an apprentice carpenter to old Mr Pool? And how could she leave her pet goat, Stanley, her dog Maude, and her cat Marianne?

But two things happen that change everything for Kirby. She finds an article in the newspaper about her father, and Iris arrives in town. Iris is beautiful, wears crazy clothes, plays the mandolin, and seems perfect, really, thinks Kirby. Clancy has his heart set on winning over Iris. Trouble is Kirby is also falling in love with Iris…
I bought this book after reading a review of it over on Paper Fury. Because Cait does amazing reviews, and I'd be wanting to read something from an Australian writer/publisher, and she's Australian so obviously she would be a good judge of Australian YA books! Perfect. This was, actually, my very first Aussie read (I feel embarrassed admitting that but ehhhh I'm going to try not to feel awkward). So without further ado, my review of Night Swimming!
Feels: Just…awwwww. Lots and lots of awwww moments. Between the besties Kirby and Clancy to the awkward anxiety of a new crush, there was just so many times I got a case of the warm fuzzies. Also, Kirby's grandfather. My heart hurt for him, and for Kirby and her family. I remember my great-grandmother as dementia set in for her, and it was absolutely heart breaking. It's difficult sometimes as a teenager or young adult to see our loved ones growing older when we feel like we're just starting out in life.
Characters: I love Kirby. She is unapologetically (though sometimes embarrassed) nerdy and unfashionable, and I wish I had her self confidence. Her quirky family, complete with unaffectionate mother and absentee father, is endearing even while they exasperate Kirby. Clancy is just hilarious and unpredictable (except to Kirby, who knows him better than he knows himself, it seems) and I loved how he repeatedly scandalized their small town with his antics.
There is a lot of minority representation in this book. That was probably my favorite part, besides the general Australian-ness (is that a word?) of it, which had me chuckling over slang I didn't quite understand. Kirby is gay, while Clancy and Iris are both minorities. I was a little sad that the book glossed over Iris's mental health issues, but I guess you can only do so much in a relatively short book.
Plot: So, this is where I felt the story was a bit weak. The plot line just sort of dragged while it skipped around somewhat and left me a little bit confused about what was going on in places (though maybe if I had paid a little more attention to the dates at the top of some of the chapters, that would have helped). There are a couple of side plots that were interesting but then turned out to not be so interesting or they were just finished off so quickly it felt a bit disjointed. Then at the end it felt like the author realized something exciting needed to happen and threw that little disaster in the works to shake everything up. Which it did, but it didn't have enough time to resolve, in my opinion.
Oh! How could I forget.
STANLEY! You should definitely read the book just for Stanley. Because everyone, apparently, needs a pet goat.
Overal, 3.5 stars. 1 flame because there are a couple slightly sexy scenes but nothing over the top or that I felt would be inappropriate for a young teen reader.
Subscribe to Blog via Email