I picked this book up at a steal ($3.99 for the hardcover) at Books-A-Million last year, and then when I realized one of the 2018 books I was looking at – Save the Date, if anyone is curious – was by the same author I decided I really needed to pull it out and read it. Then come to find out said Morgan Matson also wrote Since You've Been Gone, which was EXTREMELY popular yet I still haven't read and apparently I hadn't paid any attention at all to who wrote it…anyway. Small book world!
The Unexpected Everything
by
Morgan Matson
,
Морган Мэтсон
Published by
Simon & Schuster Books for Young Readers
on May 3, 2016
Genres:
Modern
,
Romance
,
Young Adult
Pages:
519

Andie had it all planned out. When you are a politician's daughter who's pretty much raised yourself, you learn everything can be planned or spun, or both. Especially your future. Important internship? Check. Amazing friends? Check. Guys? Check (as long as we're talking no more than three weeks).

But that was before the scandal. Before having to be in the same house with her dad. Before walking an insane number of dogs. That was before Clark and those few months that might change her whole life. Because here's the thing—if everything's planned out, you can never find the unexpected. And where's the fun in that?
The Unexpected Everything
Cute. Fluffy. Dogs. Sounds like an awesome time, right? I adore dogs and I've even contemplated trying to establish a dog-walking business myself to bring in some side hustle cash, so I thought for sure I would love this book! I kind of did…and I kind of didn't. There is one huge, glaring issue in particular, but…
Good Things First

:

Dogs! Obviously.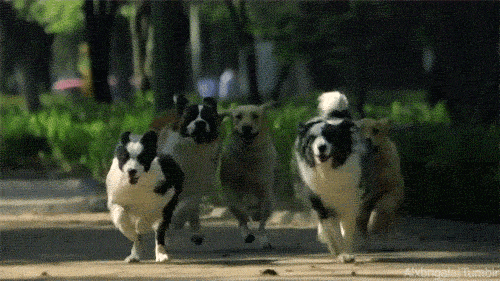 Andie isn't even particularly a dog person before the story starts, but after a chance encounter with one she quickly gets lured in. PUPPY LOVE! Anyone who can resist is either heartless or allergic. 😛 Anyway.
Friends! Andie and her three best girlfriends are tight. They care so much about each other, it just leaps off the page. I love the way the group texts were presented in the hard copy of the book, complete with emojis. It was awesome and hysterical and oh-so-accurate.
Cute. Andie and Clark are SO different and yet they work and are adorable together.
Andie is a sexual being and it is portrayed in a POSITIVE light. I loved this. For far too long it's been the THING for guys to be players and have casual hookups and be cheered for doing so, while if a girl does the same she's a slut. Not so here. Andie does have emotional struggles, which contribute to her inability (in the beginning) to connect with any of her boyfriends much beyond a fun and physical level. Even when she does begin to realize that oh hey, feelings are ok even if they're sometimes annoying, she still enjoys the physical side of things. YES! The book doesn't go into too much detail and is pretty tame as far as sexual stuff really, but the implications are there.
Not Great Stuff

:

This book is nothing but a HUGE basketful of privilege. White privilege, rich privilege, political privilege, straight privilege…all of it. This smacked me in the face even though yes, I'm white and straight. I am not and have never been from the kind of world this book exists in – where all teenagers have their own cars, the newest phones, perfectly safe neighborhoods, huge houses, don't NEED a job but only work one to avoid boredom…WTF. There are no characters of any other nationality or color, or sexual identity. Like they don't even exist. WHAT WORLD DO YOU LIVE IN?!? I was extremely bothered and this aspect alone is what brings my rating down. I understand that sure, in some places, this is how people live. But the characters in this book don't seem to have any idea of how well off they are, or that there's anything special about their lives. I guess, maybe, that this is supposed to be a light-hearted, escapism type read…but even if so I just can't buy it. It's not okay and I am extremely disappointed. I'm not sure I will be trying anymore Matson books. Looking at the other reviews on GoodReads, I seem to be one of the only people bothered by this aspect…so maybe I'm oversensitive or something. But it just rubbed me wrong.

If you really enjoyed reading and would like to show your support for future content and help keep the blog running (my goal is to make the blog self-supporting), consider using the affiliate links on this page to buy your next book, or donate to the blog using one of the links below!
Reading this book contributed to these challenges:
Subscribe to Blog via Email